Cash House-buying Scams In Boston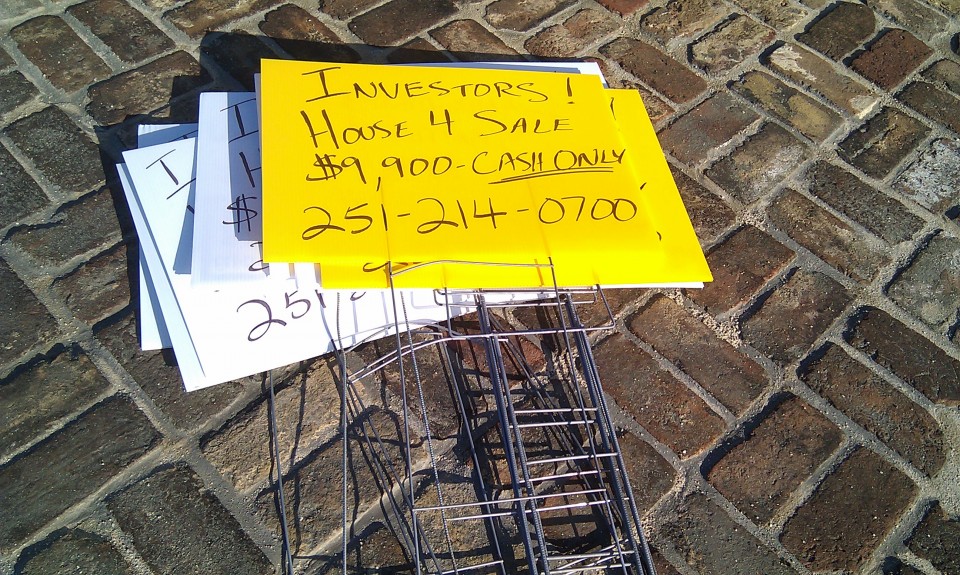 Beware of illegal roadside signs advertising cash house investors.
You've seen those signs staked along the roadway and median strips, or tacked onto utility poles: "Cash for houses" or a variation thereof. Those are called "bandit signs," and they are illegal in Boston. Erecting signs on public property is against the law and subject to a $20 fine for each offense.

If a house investor has no qualms about breaking the law by erecting these signs, what sort of cash house buyer are they going to be? There are many "we buy houses" scams, and these illegal signs on public property could lead to real estate fraud and housing scams. It's important to know who you're talking to if you're calling a number from a sign. Be sure to verify their information if you don't want to be a victim of a "cash for houses" scam in Boston.

To illustrate that these signs can be dodgy, an undercover reporter in Philadelphia, Julie Terruso, called numbers on 59 "cash for houses" type signs. Only 4 people who answered would provide her with their real names, and she couldn't get to a real live person at 43 of the phone numbers. There are dishonest people in Boston involved in real estate scams—don't be a victim of one of them.
The "Oops, I made a mistake on my check" scam
If you find yourself selling your house to a friendly, charming, upbeat buyer who loves your Boston house and is willing to buy it without hesitation, good for you!
But if that buyer gives you a check that they say a short time later is drawn for too much, and then they ask you to return part of the money before the amount is even available, don't do it. The buyer may seem nice and honest, and you don't want to jeopardize your sale. But you could wind up out of that money if their check bounces. And it probably will.
If you are having money problems and facing
foreclosure
, you are at risk of falling for a foreclosure relief scam. Selling a home in Boston the traditional way might take longer than you have if you're trying to avoid foreclosure. You don't want to lose your house and your credit, and that's understandable. If you're in a situation like that, try not to panic. Contact a
reputable cash home buyer.
You'll know if they are in good stead by checking their
reviews
and their BBB page, looking at their website, and
watching out for shady warning signs.
Don't be a victim of property fraud. Sell to We Buy Ugly Houses®.
Not all cash home buyers are scammers. Some are very reputable and a godsend to people who need to sell their houses, especially people in difficult situations. We Buy Ugly Houses
®
is a highly rated cash home buyer who will buy your house without your having to make any repairs, or even clean. You can also leave unwanted possessions behind, and we'll take care of them.
Our streamlined 3-step process is easy. Simply contact us for a free, no-obligation consultation. Our friendly
Boston property specialist
will meet you at your house to answer your questions and do a walkthrough. We can often give you a fair cash offer on the spot. If you accept our offer, we'll walk you comfortably through the sale to closing, which is often in as little as three weeks. We understand that each house and seller is unique, and we tailor the sale accordingly. We take a personalized approach to buying houses and put the seller before the transaction.
Contact us at
866-200-6475
to get started. You'll be happy you did.