Boston's cash home buyers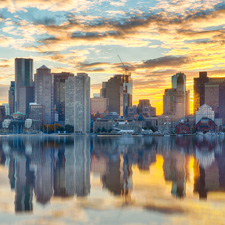 We've been America's preeminent cash home buyers since 1996. We've been buying houses with cash in Boston for over two decades. Skip the hassles of for sale by owner, aka FSBO, and contact us today. We will schedule an in-person inspection of your Boston home, and make you a fair cash offer on your house. A fast offer letting you sell your house "as is". An offer that will not change at closing.
We buy houses "as is." No cleaning or repairs needed. And when you sell your house to us "as is", you pay little or no closing costs. It really is that easy to sell your Boston house fast for cash. Contact us today to get a cash offer on your house!
The cash home buyer you should meet.
You're looking at the premier homebuyer in Boston, and we can buy your house fast. After we've made our fast, fair cash offer, we can close quickly, sometimes in as soon as three weeks.
We Buy Ugly Houses® is America's #1 home buyer. We've helped thousands of homeowners across the country by purchasing their houses for cash since 1996. Our independently owned and operated, local home buyers are real estate market experts in Boston who you can trust to buy your Boston House fast.
If selling a house the traditional way doesn't work for you, call "We Buy Ugly Houses®" Boston.
We can help you sell fast for cash if you're deep in debt, face expensive house repairs, or are caught in another type of ugly housing situation.
Even if that's not your story, you can still sell to us if you want to avoid the extra steps in a traditional sale and get fast cash for your house.
We buy houses on your schedule. Call 866-200-6475 to schedule a no-obligation home visit or leave us your information to sell a house in Boston.
Work with real people you can talk to.
Our local Boston home buyers can listen to your concerns and provide you with a fast-sale solution that fits your needs.
We understand that sometimes life with a house gets complicated, and you might need a fast and easy sale to help you move on.
That's why we created our proven process to buy houses in 3 easy steps:
Schedule a no-obligation, in-person, or virtual home visit
Get a cash offer
Close fast on your schedule, in as little as 3 weeks, or later on your timeline.


We can buy houses, apartments, condos, townhouses, and even some commercial properties "as is." You don't have to make repairs or expensive updates. Just take what you want and leave us the key.
We are the original "We Buy Ugly Houses®" people. We have the experience and expertise to buy a house fast. Our method has been perfected over more than 25 years.
We pay cash when we buy houses in Boston, MA.
We also pay typical closings costs when we buy homes.
You can sell your house "as is," meaning no repairs, no cleaning, no painting, no headaches.
No waiting for bank loan approvals.
Deal with professional home buyers who won't waste your time.
Quick closings so you can move on with your life.
We keep our promises.
When you choose "We Buy Ugly Houses®" Boston, you can sell fast and easy—no-nonsense, no complications.
You can work with an independently owned and operated property specialist living and working in your area, and they can buy your house for cash. So you don't have to worry about our trusted buyers struggling to finance a purchase.
We can close fast, in as little as 3 weeks or later, on your schedule, and we'll cover typical closing costs.
Plus, you won't have to make any repairs, clean the house, pay for a home inspection, or pay us a commission. Just take our cash offer and walk away from your house with peace of mind.
And, of course, our offers come with no strings attached, no obligations. You can always say 'no,' if our process doesn't work for you.
What do you have to lose? We may be the best option for you.
Call 866-200-6475 or leave us your information to get a cash offer. We buy houses in Boston, MA, and offer fast cash relief from ugly housing situations.
Sell your Boston house "as is."
Home to many of the most important moments in the founding of the United States, Boston has a massive historical and cultural significance. Boston has many more universities then you'd expect in a city of its size and has a lot of university students. The area is also home to a lot of financial and consulting firms.
The Boston metro area has a population of 4.7 million, and a median home price of $423,450, which is on the higher end of many of America's biggest cities.
We can't answer the question, "Should I sell my house?" for you, but we are here if you decide to sell your house "as is". Over 140,000 homeowners have trusted us for more than two decades to buy their houses. Contact us today to see why.
We buy houses throughout the Boston area including Barnstable, Bristol, Dukes, Essex, Middlesex, Nantucket, Norfolk, Plymouth, Suffolk counties and the surrounding communities.
Avoid FSBO Hassles in Boston
We make cash offers on houses all over Boston and Massachusetts, and we've been buying houses with cash in Boston for well over two decades. We can help you avoid the hassles of for sale by owner (FSBO) by selling directly to us. If you're wondering , "How can I sell my house fast?" contact us today to see how we can help you.
With We Buy Ugly Houses you can sell your house "as is": no hassles, no cleanup, no painting, no headaches. A member of our local home investor team will be in touch and arrange to make a virtual or in-person visit. After our in-person visit, we give you a no-obligation cash offer on your home. An offer made by an experienced and trusted homebuyer—a professional you can trust to treat you fairly.
Since we buy Boston houses with cash, there's no waiting on bank financing that can fall through. We can often close in as little as three weeks.