Top 11 Most Expensive Home Repairs That Can Break the Bank
Posted in
Advice
on January 12, 2018
What are the most expensive home repairs?
| Home Repair | Cost |
| --- | --- |
|  HVAC Repairs |  $100 – $1,100 |
|  Water Heater Repairs |  $100 – $1,400 |
|  Electrical Repairs |  $125 – $3,000 |
|  Driveway Repairs |  $300 – $4,500 |
|  Asbestos Removal |  $500 – $4,500 |
|  Roof Repairs |  $150 – $5,000 |
|  Septic Tank Repairs |  $200 – $5,000 |
|  Deck Repairs |  $250 – $5,000 |
|  Mold Removal |  $400 – $6,000 |
|  Foundation Repairs |  $500 – $12,000 |
|  Siding Repairs |  $100 – $16,000 |
HomeAdvisor's True Cost Guide is the source for price ranges.
But before we give a brief overview of each repair and their average cost, here's an important note:
Experts estimate that the average annual cost of home maintenance and repair is 2-4% percent of a home's value. So, for a $200,000 home, that's up to $8,000 in repairs per year, on average.
With that in mind, here's what you need to know about the most costly home repairs.
---
HVAC Repairs: $100 – $1,100
National Average: $336
There are 2 main components to repairing an HVAC unit: the electrical components and the piping components.
In some cases, homeowners should be able to fix their HVAC unit by replacing filters, fuses or clogged up drain lines. If you have little-to-no experience with repairing home appliances, just go ahead and call an expert. It's not worth further damaging your air conditioner or heater, which could result in a full HVAC replacement. And that could cost you $10,000.
The next time your HVAC unit malfunctions, call an expert to take a look. Repairing your existing unit is much more cost-efficient than buying and installing a new one.
Water Heater Repairs: $100 – $1,400
National Average: $529
There's nothing worse than waking up and jumping into a freezing cold shower. You know it's a water heater issue and it's time to get it fixed.
To fix your water heater, you need to find out if its gas or electric. They both have about the same lifespans and repair costs, but they use different parts and power sources.
If your water heater is only a few years old and you begin to have issues, repairs are the best route to go. However, water heaters have a lifespan of 10-15 years. So, if yours in that range, you should consider replacing it with a new one.
Electrical Replacements: $125 – $3,000
National Average: $1,109
Working with electricity is dangerous, which is why you should hire an electrician to fix any of these issues.
Electrical repairs and replacements include issues with lighting fixtures, home generators, electrical panels, wiring and switches, outlets, smart home automation systems, and fans. Electricians are able to diagnose and fix any of these issues, which is almost always the best option.
Driveway Repairs: $300 – $4,500
National Average: $1,553
Is your house losing curb appeal because of your driveway? Maybe it's time to get it fixed.
Repairing a driveway is a bit of a daunting task. Most homeowners don't know where to start since there are several factors to take into consideration.
First, repair costs will depend upon the material of which your driveway consists of. Gravel/dirt is the least expensive material while concrete can be the most expensive.
Second, determine which issue is plaguing your driveway. Is it sinking/buckling? Are there cracks? Potholes? Crumbling? Each issue has their repair solutions, which should be factored into the repair costs.
Lastly, ask yourself if the driveway needs to be repaired or replaced. If it's old and you're looking to sell your home, replacing the driveway may be the best option.
Asbestos Removal: $500 – $4,500
National Average: $1,791
If you have a home that was built before the 1970s, there's a chance that asbestos may still linger in the house (if it hasn't been updated or renovated). It was banned from being used as a building material because it causes cancer.
There aren't necessarily "common signs" of asbestos, so it's important to have an inspector check the home (especially before buying). If your home does have asbestos, contact professionals to remove it.
Roof Repairs: $150 – $5,000
National Average: $770
There are several different reasons why your roof may need repair. If it's a small leak, chances are you can repair it yourself with a trip to a home goods store.
However, if your roof is badly damaged and needs a full replacement, prices can run from $5,000 on the low end up to $25,000 or more.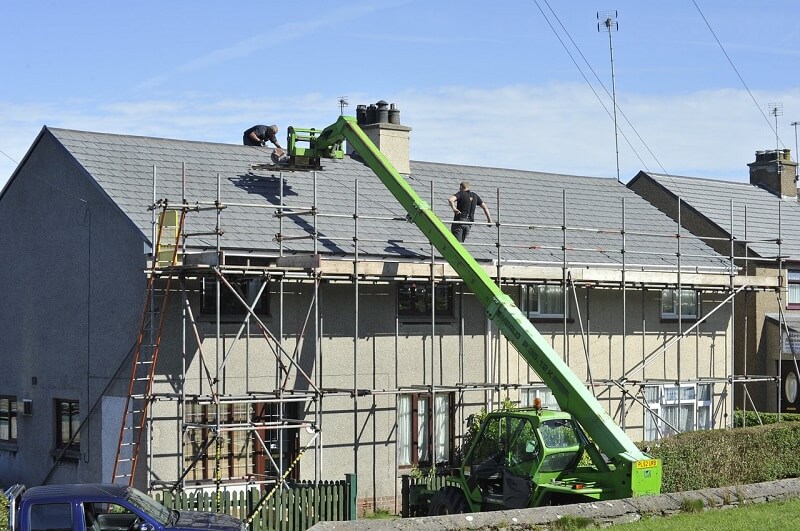 Septic Tank Repairs: $200 – $5,000
National Average: $1,454
Chances are you never think about your septic tank. It should just work. However, homes that are at least 40 years old are at a high risk of needing a repair. Even newer homes could be affected.
Broken pipes and draining failures can lead to big problems. If you notice a smell, see sewage permeating from the septic tank, or find sewage backing up in your sinks and tubs, you know it's time to get it repaired or completely replaced.
Deck Repairs: $250 – $5,000
National Average: $ 1,523
As long as your deck is structurally sound and the wood is healthy, there's no need to replace it. Repairs will be easier and much more cost-efficient.
Depending upon how much carpentry experience you have, you may be able to repair the deck yourself. It may appear that you only need to repair some railings or popped nails and screws.
It's important to fully check your deck for other issues like mold, mildew, and pests. You'll need to figure out where the issues stem from and come up with a solution.
Mold Removal: $400 – $6,000
National Average: $2,153
Mold is a type of fungus that thrives in warm, moist areas. Since it doesn't need sunlight to survive, it lives in dark places of your home and feeds on organic materials (drywall, floors, tiles, insulation).
Since mold lives and grows in dark areas of your home that you may not see or frequent, it can be difficult to tell if you have a real problem. If you begin suffering from various health issues like allergic reactions, headaches, breathing difficulties, or start having burning sensations on your skin, you need to call a professional to test your home.
Foundation Repairs: $500 – $12,000
National Average: $3,998
Issues with your home's foundation can cause several structural problems. You may notice cracks in the walls, doors won't close properly, sinking floors, gaps around window frames, and lots more. The quicker you find these issues and get them repaired, the better off you are in terms of price and safety.
If you think you have a foundation issue, you need to call a professional (like a structural engineer). They are able to inspect what's wrong and tell you what needs to be repaired.
Siding Repairs: $100 – $16,000
National Average: $630
A siding is the protective material on the exterior of your home that can also bump up its visual appeal. Although they are built out of tough materials, sidings (and roofs) are the first line of defense in all weather conditions. Most people assume if the weather isn't too harsh, their sidings are fine. However, normal wear and tear are likely to happen as the years pass on.
Depending upon which kind of material your siding consists of, there are different forms of damage that may need to be repaired. Sidings made out of wood can rot, chip, warp, and split. Aluminum sidings can become dented and are often noisier than other siding materials.
You may not need to repair your sidings that have minimal damage. You should repair your sidings if you plan on selling your home because it will affect the home's curb appeal. Otherwise you run the risk of scaring buyers away before they even step foot inside your home.
Save Money by Catching Problems Early
Have these potential trouble spots checked annually by a professional. Regular maintenance can help you avoid costly repairs and keep your money in the bank.