What is an Abandoned House & What To Do About the One Next Door
Posted in
Advice
on January 6, 2018
What is an abandoned house?
An abandoned house is a vacant property due to foreclosure, bankruptcy, and financial or legal reasons. Since most homes are abandoned due to financial reasons, they are typically run down and need renovating. This makes abandoned homes attractive properties for investors, flippers and wholesalers because they sell lower than market price.
Whether you are looking to buy an abandoned home or would like to do something about one in your own neighborhood, we've created a resource for you.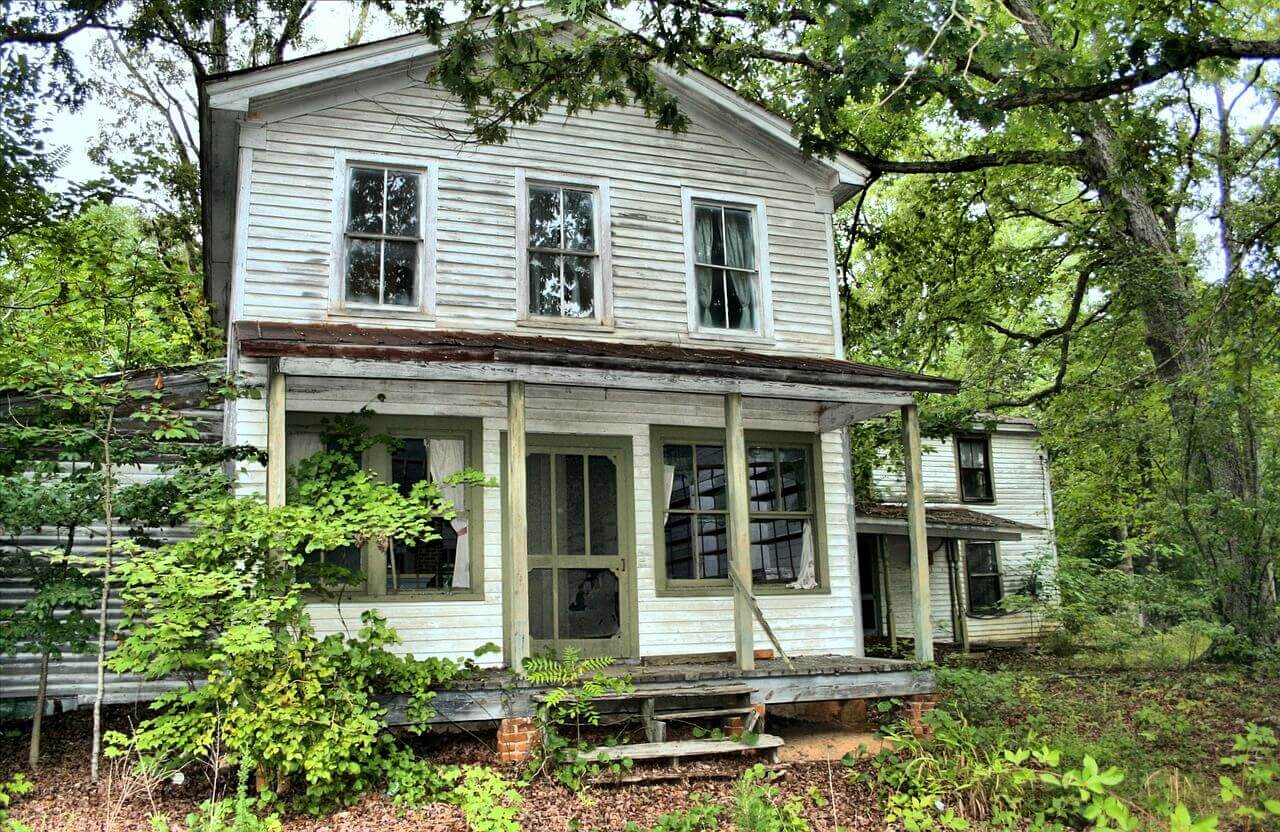 How to buy an abandoned home
Find an abandoned property.
Make sure it's abandoned (and not vacant).
Track down who owns the property and contact them.
Inspect the home and make an offer.
1. Find an Abandoned Property
In order to buy an abandoned home, you first need to find one — and there are several ways. Here are some options to get you started:
Search for houses that look abandoned. This is a straight-forward approach but it's often hard to distinguish an abandoned home and a vacant home. Common signs of abandonment include overgrown grass and weeds, chipped or faded paint, no cars in the driveway, and structural damage among others.
Ask a mailman or delivery carrier if they see any abandoned homes on their routes. Daily carriers are constantly making trips in your neighborhood and surrounding communities. The next time they deliver mail or a package, ask if they've come across any homes that look vacant or abandoned. Chances are they drive by one or two almost on a daily basis.
Make a trip to the county clerk's office. The government has records on property ownership so you may be able to find abandoned homes by visiting the county clerk's office.
Look at property auctions in your area. The government seizes real estate property throughout the US due to violations of federal laws. These homes will often be sold at local property auctions so check when/where they are and be sure to attend.
Call local realtors and inquire about abandoned homes. Local realtors are aware of abandoned and vacant homes in the area because it can affect their business. No one wants to buy a home next to an abandoned house. So check with a few realtors and inquire if they know about any.
Ask banks if they have a list of homes under foreclosure. Homeowners who are facing bankruptcy or foreclosure will sometimes abandon their home altogether. If this happens, the legal process can take a while. So visit some banks and inquire about homes that have been foreclosed or are in the process of repossession.
2. Make sure it's abandoned (and not vacant)
At first glance, it might be hard to tell the difference between a home that is abandoned and one that is merely vacant. This is especially true if the home is in a state of disrepair. The difference is important however, as a vacant home has someone who claims legal responsibility for the house whereas the owner of an abandoned home has forfeited all rights to the property.
For you, this means that dealing with a seemingly abandoned home may be a little easier although most owners of vacant homes don't live in the same city as the home itself. You could inquire with neighbors and ask if they know anything about the property or its previous tenants/owners. Also, public records should include the owner's address and you, the neighborhood HOA, or even the local government or police department can reach out to the owner to try to reach a resolution on the house.
Tip: Oftentimes the owners of vacant properties don't want to deal with the hassle of making repairs and/or getting their home sold. To prevent a vacant home from being abandoned, you might try telling the owner about services like We Buy Ugly Houses®. We can make it fast, easy, and convenient for even an out of state homeowner to sell their property as is.
3. Track down who owns the property and contact them
The best way to find out who owns an abandoned piece of property is to check your county's tax assessor website. You may have to pay a small fee but it's well worth it.
One thing to keep in mind: if the mailing address is the same as the abandoned property, you may be out of luck. There's a small chance the owner still checks their mail OR they have it forwarded to their new address. Therefore, you should still attempt to contact them and express interest in buying.
4. Inspect the home and make an offer
Always inspect a home before buying. This includes abandoned homes.
You have no idea why the home was abandoned and it may be because of structural damage, foundation issues, or any number of things. You need to account for the cost of all the renovations to ensure you'll still make a profit from buying the home.
Once you know you want to buy the home, it's time to make an offer. You could be dealing with the original owner, a bank or the government. Either way, you need to account for the costs of repair before making the offer.

Abandoned homes attract squatters and crime
Now, if you don't like having neighbors, having an abandoned home next door might not seem like a big deal. But it is.
In addition to lowering the value of your house and ruining its curb appeal, abandoned homes are also notorious for attracting crime. According to the Association of Community Organization for Reform Now (ACORN), illegal activities associated with drugs and robberies occur more frequently in areas where abandoned homes are located. Vacant homes can be a target for squatters and even drug dealers.
Not only can this criminal activity drive down property values further, but it can also put your home and family at risk.
The point is, abandoned homes are more than just an eyesore – they can be dangerous.
The 10 US cities with most vacant homes
According to a report by RealtyTrac in 2016, the 10 cities below have the highest vacancy rates in the USA.
Flint, Michigan – 7.5% vacancy
Detroit, Michigan – 5.3% vacancy
Youngstown, Ohio – 4.4% vacancy
Beaumont – Port Arthur, Texas – 3.8% vacancy
Atlantic City, New Jersey – 3.7% vacancy
Indianapolis, Indiana – 3% vacancy
Tampa, Florida – 2.9% vacancy
Miami, Florida – 2.8% vacancy
Cleveland, Ohio – 2.8% vacancy
St. Louis, Missouri – 2.6% vacancy
Read the section below if you live in a neighborhood with an abandoned home(s) and you do not want to buy it.

Steps you can take if there's an abandoned home in your neighborhood
As stated, if the home has an owner on record with a mailing address that's separate than the address of the house itself, you should attempt to reach out to them about the home.
Chances are, they simply aren't aware that the house might be attracting criminal attention and would welcome the chance to prevent any damage to the home.
If there isn't an owner, try looking at public records to see if there is a bank on file who owns a mortgage on the home. In this case, the bank is the new owner and the issue of taking care of the house falls on their shoulders.
It's possible the home hasn't gone through the full foreclosure process, so the bank may be unaware that it's vacant. Try to get them to hire a property manager to maintain the home while they deal with finding a new family to move in.
You can also volunteer to take over some basic maintenance like mowing the lawn yourself while the bank tries to hire someone. Even something so simple can make a home appear lived in and discourage criminals.
Wrapping it up
When you buy a home the expectation is that over time the value of the house and the surrounding neighborhood will increase. Unfortunately, forces beyond your control can negatively affect the value of your home and possibly even prevent you from selling it. Things like natural disasters can have a huge impact on the value of your home, but more common are instances where a nearby house is abandoned and left in a condition that reflects poorly on your own home and the entire neighborhood as well.