How much should I spend on house renovation costs to sell my house?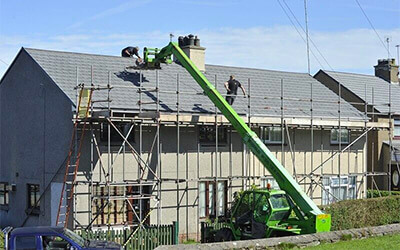 Is it worth renovating a house before selling it?
If you're a fan of home makeover shows, you know very well that home renovation costs are nothing to sneeze at.
Homeowners often have to sacrifice the beautiful features a skilled contractor could add to the house to afford the things they truly need.
That mental calculus is even more challenging if you're considering it because you're selling your house. You have to guess what's worthwhile to someone you haven't even met.
Unless you don't mind donating thousands of dollars in home improvements to the next owner, you'll only want to pay for work that will pay for itself when you sell the house.
So, is it worth renovating a house before selling? And how much do home renovations cost?
The answer depends on your house, your needs, the work you're considering, and the market you're selling in.
Here are some tips to help you decide whether you should pay a house's renovation costs before selling.
Will the house renovations get you a better price?
Not all renovations are equal. Installing new windows, a new garage door, or replacing a roof might add enough value to your house that you'll make back everything you spend—and probably more—after the sale.
But other updates like installing new wall-to-wall carpet, putting in a swimming pool, or putting up wallpaper might not give the payback other changes would. Some research and strategy are required to decide which home renovation costs are worth your money and which ones will end up being expenditures you won't make back.
How much do home renovations cost?
Roof replacement – A roof replacement in Atlanta will likely cost between $2,000 and $25,000, according to the home services site Angi, formerly Angie's List. Most roofers charge per square foot of roof area, so the cost will depend on how big your roof is and the rate your professionals charge. The material used will also affect the price. A common and more affordable material is asphalt shingles. More expensive materials include tile, high-end stone, and slate.
Garage door replacement – Replacing a garage door could range between $350 and $2,000. The cost depends on the size and type of door you want to be installed. Some doors are made with aluminum, and some with fiberglass, steel, wood, vinyl, and more. The average price in Atlanta for a garage door replacement is about $1,000.
New windows – The price for windows includes the cost of installation and the type of windows you pick. The type of pane, material, and coating can mean a difference in hundreds of dollars, according to Angi.

Pane

Single pane – $100-$350
Double pane – $400-$900
Triple pane – $500-$1800

Glass

Insulated - $10-$20 per sq. foot
Double-Glazed - $3-$6 per sq. foot
Tempered - $12-$14 per sq. foot

Coatings

Low e-coating - $300-$1,000 per window
Tinted - $7-$110 per sq. foot
Laminated - $10-$20 per sq. foot

Bathroom renovation – A bathroom can cost between $6,500 and $25,500 in Atlanta, according to Sweeten.com. The final price depends on the size of the bathroom, whether you use lower-tier or luxury materials, how big the remodel is, and how much work will be necessary.
Kitchen renovation – Sweeten.com estimates a kitchen renovation in Atlanta can cost between $25,500 and $69,500. Again, the cost depends on how much work needs to be done, the quality of materials and appliances you use, and what kind of professionals you need to hire to bring the renovation to life.
When doing a renovation for a house you plan to sell, don't go overboard.
Your buyer would likely be satisfied or even impressed with budget-friendly materials installed in the kitchen or bathroom.
You're more likely to recoup your remodel costs if you use mid-range finishings than if you opt for luxury materials in every project.
Consider how much time you have.
It's also important to consider how much time you have when you ask yourself, "Is it worth renovating a house before selling?"
Depending on the changes you want to make, home renovation projects can last for a couple of days, several weeks, or months. Some can take a year or more.
Do you have six months to renovate your house? If you do, and money isn't a problem, it may be worth committing to projects that will pay off in the sale.
But if you don't have time and need to sell fast, it's probably best to save on home renovation costs and sell your house "as is."
Save the time and home renovation costs and sell to We Buy Ugly Houses®.
If you know you can't afford house renovation costs, call We Buy Ugly Houses! We buy houses "as is" fast, and we pay cash.
Nothing is guaranteed in the traditional real estate market. You could find yourself spending thousands of dollars and months of your time on a remodel and even more time to find a buyer.
Don't bother with remodeling, repairs, or even cleaning to show us your house. Our local cash buyers can look at your house just as it is and buy it that way, too. Call 866-200-6475 to sell your house without paying house renovation costs.