Atlanta's Best Sports Blogs & The Falcons Schedule 2015-2017
Why do we love sports? Why do we love to read about sports? To most of us the answer is obvious! But when you actually stop to think about what value sports actually have, it highlights the passion we as writers must emulate in our blogs! So if you can't get enough Atlanta sporting news, and the first thing you do when you get to work is open up your favorite sporting news websites, than make sure they cover the same attributes that make sports exciting.
Life-Long Fun
First off Sports is Fun! Few things provide the joy like watching your favorite sports team go through the low-points, so you can experience with them the highs. Doug Moe who coached the Denver Nuggets said, "There's nothing like sports. You don't get out of [sports] unless you have to." There is a lot of truth to that statement. If you love sports, you've got to love a team, and if you love that team you're with them through thick and thin. So when you're team finally takes it all in and brings home the championship the party lasts for days, weeks and even months!
Unpredictable
One thing sports history has proven is anything can happen. Over the years and across the sporting landscape we have seen more upsets, improbable comeback, and improbable championship runs than one would ever expect if they look at just the stats by themselves. It's this anything can happen atmosphere that just soaks up the emotions of all lucky enough to observe its magical story. Playwright Neil Simon is even quoted as saying, "Sports is the only entertainment where no matter how many times you go back you never know the ending."
Test of Character
You can't fake your way through sports. If you're a phony it will be proven on the field, pitch or court. It's the test of discipline required to perform at such a professional level that is admirable. When an athlete is going all out, giving everything they have and fail you can see who they truly are. I'm reminded when the Denver Broncos lost last year's Super Bowl even though they walked in as the favorites. Denver's quarterback Peyton Manning could have thrown a tantrum, slung expletive-filled comments but instead was a gentlemen who in bitter loss had time to sign autographs for children. Sports have a way of showing the best and worst in humanity, and in very many ways watching the journeying of one's character develop is in itself a story that many find fascinating.
If you're a fan of all thing NFL in Atlanta than you'll love TheFalconholic.com. The blog is supported by SB Nation which is one of the fastest growing sports media brands online. As such SB has also developed a fan-centric network of blogs that focus on different sporting communities. TheFalconholic.com is one of the best sporting blogs in all of Atlanta and you should check them out.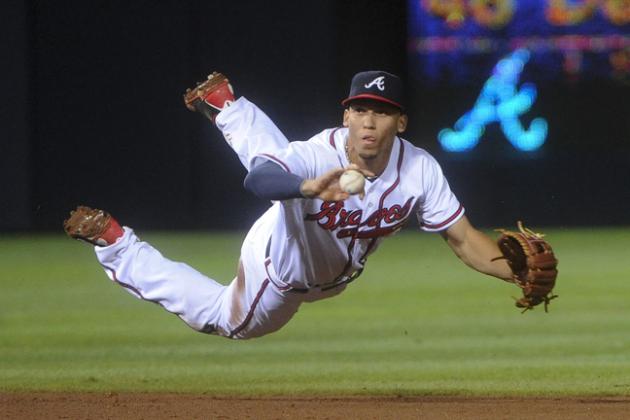 AtlantaSportsCards.com
If you love collecting sports memorabilia and love talking sports than the blog over at AtlantaSportsCards.com is a blog that should be on your radar. Owner Josh Pankow has been in the sporting business for 15 years and has been blogging about sports since 2009 and covering not only Atlanta sporting news but big world sporting events.
AtlantaSoccerBlog.com
Atlanta is officially getting a professional MLS soccer team, and will be playing in Atlanta's new Pantheon stadium, which is being hailed as one of the World's best stadiums. So if you're excited for Atlanta's newest professional sports franchise than you'll love AtlantaSoccerBlog.com. Youth soccer is huge in the Atlanta area, and if you want to follow all things Atlanta MLS soccer leading up to the team's inaugural season in 2017, than you'll want to follow AtlantaSoccerBlog.com
---
Atlanta Hawks' Best Fan Blogs
One thing that sets Atlanta apart from other large metropolitan areas is our superior dedication to our sport teams. Sure, that might come across as bias since I live here but the fact I have proof. Yes, that's right, I have proof that Atlanta not only loves our sports teams but we have fans dedicated enough to report on the latest news and rumors involving our beloved Atlanta Hawks on some of the best fan blogs in the country. So you'll understand if I admit that it's quite a daunting task to determine which Atlanta Hawks fan blogs come out as No. One. So instead of ranking which blog is number one as an alternative I'm going to give you a list of the top overall blogs, and you can go in and choose which one you think is the best.
Proclaiming itself as the top home for quality news, rumors, stats, scores and analytics on everything involving the Atlanta Hawks, this fan blog definitely ranks near the top of the list. All the news is all the typical straight in your face reporting you would expect from a fan dedicated to their team. This blog is part of the SB Nation, which has dedicated blogs to many teams throughout the country, and has a dedicated space just for fans to post their latest rants. Next to each fanpost is the number of comments allowing you to easily identify which topic should require your two cents.
Hawks Hoop
Another great blog is HawksHoop.com, which has been writing all about the latest Hawk stories, stats, trade rumors and more. This blog is affiliated with ESPN's TrueHoop Network that gives a place for NBA fans to voice their opinions on everything involving the great game of Basketball. This specific blog has a deep intensity that is shown in the works of bloggers Bo Churney, Buddy Grizzard and Chris Barnewall in particular. This is one you'll definitely want to check out because it cuts through all the noise and fast rotation of boring fluff some blogs get caught up on.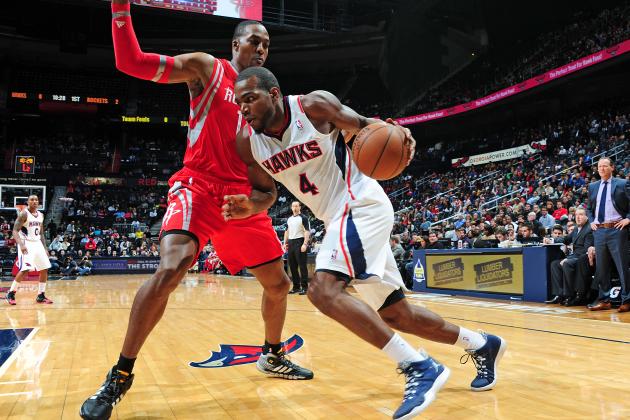 Breaking down the latest news and rumors from everything going on with the Hawk's season is another great blog called SoaringDownSouth.com. Associated with Sports Illustrated's Fansided blog network, this website offers an entertaining side to all things happening in both the NBA and the Atlanta Hawks. This blog is unique in that it makes salary information readily available so you can rant on if a particular player is playing up to the standard you would expect based on the amount of money they make. Though this website has dedicated staff of writers, they're always looking for fans who want to write about the Hawks passion that burns brightly in their beating chests. If that sounds like you, than you'll want to get in contact with them.
---
2015 – 2016 Atlanta Falcons Schedule
2016 Atlanta Falcons Schedule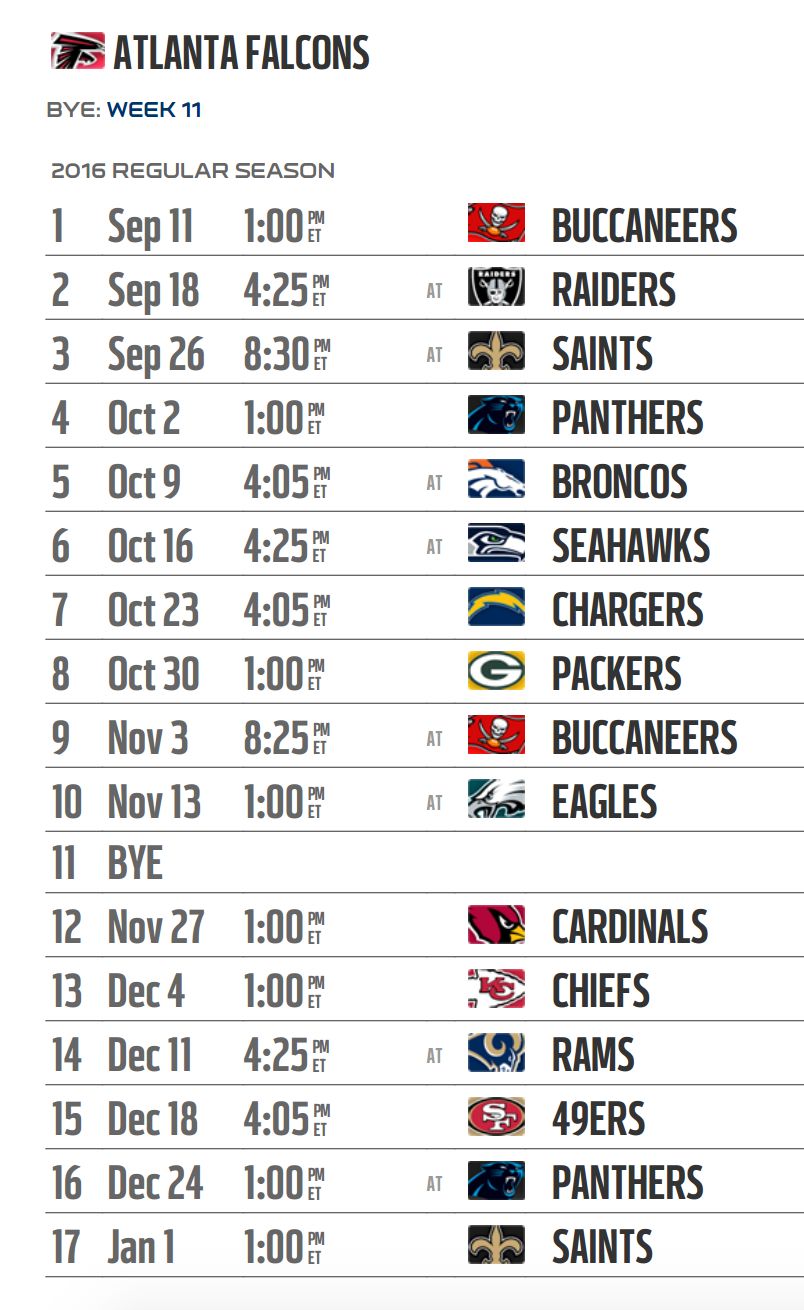 2015 Atlanta Falcons Schedule
Dan Quinn and the Atlanta Falcons will get their fill of the NFC East.
People always look for aspects that stick out when the NFL releases the schedule for its 32 teams, and that's the big take away for the Falcons in 2015.
To wit:
The first three games of the season are against the NFC East – the Philadelphia Eagles, New York Giants and Dallas Cowboys. The Eagles game is the opener of Monday Night Football.
Since Atlanta doesn't play Quinn's former team, the Seattle Seahawks, that's the most intriguing aspect of the schedule.
---
Best High School Sports Blog in Atlanta
School is back in session and with the start of every school year comes the next round of High School sports coverage. But how will you keep up with all the action? After all, High School sports don't get all the coverage that our professional athletes get, or do they? Don't stay up late pulling your hair out, especially when you have all of these great local blogs to help keep you up on all the action.
USA Today has set up a great website at usatodayhss.com which has coverage from all sorts of high school teams throughout the country. With help from the local news affiliates you won't miss any coverage from your favorite High School teams. The website not only has local scores, but you can catch game highlights and read up on the stats going into each game every week.
To find your local High School teams all you need to do is hit the top left home button. From there you'll get a drop down menu, or if you have a smaller screen you'll get a pop out side menu with the option for "Local Coverage." After you hit "Local Coverage" you'll get a long list divided out by state and from within each state category you'll find each local new affiliate and their coverage. Or you can simply hit "Control F" on windows or "Command F" on Macs to open up the finder window, and once that is open just type in your state to quickly find your local high school sports coverage.