Don't get scammed selling your San Antonio home.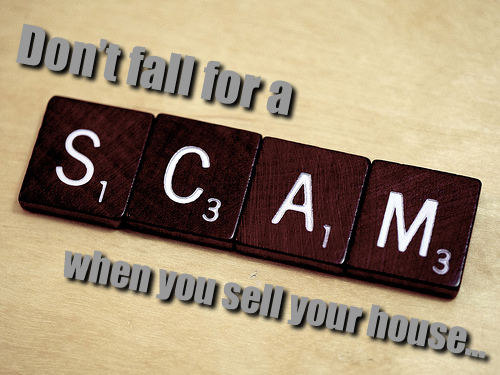 Your house is one of the most expensive assets you can acquire in your life, so it's important to choose a reputable home buyer when you decide to sell. Real estate can be a lucrative area, and sometimes investors are willing to sacrifice the most important part of their business—integrity—in order to generate the profits they're focused on. Sometimes they even break the law to achieve their goals. Here are a few ways a home buyer may not be telling you the total truth.
The "LOI" technique
LOI stands for "letter of intent," and it's a perfectly safe way to start the sales process as long as you're clear on the potential risks. A letter of intent can be a legitimate way for a buyer to inform you they want to purchase your property, but if they don't follow through, you run the risk of wasting time waiting for an actual offer.

If they're using a letter of intent as a "scam," it could work like this. The buyer writes up an LOI that states that the buyer will purchase your house in San Antonio at a certain date, usually in a month or so. The scammer will then use that period to find someone else who will buy the house from them at a higher price. If they can't find a buyer, you are stuck with the house, your plans are ruined, and you've wasted a lot of time. Letters of intent look like contracts, but they aren't legally binding.

Typically, a cash home buyer won't even bother with a letter of intent. They usually provide an offer if they're interested in a property. Also, a legit cash buyer will often have provisional financing lined up before they speak to you directly and won't need to line up the next buyer beforehand. Many of them, like an independently owned and operated We Buy Ugly Houses® franchisee, might already be "pre-qualified" by a lender and be ready to do business if you accept their offer on your house.


The "Mortgage Rehab" technique
Any time a stranger contacts you and tells you there's a new government program you can take advantage of in order to stave off foreclosure, and then wants money to get you enrolled in the program, walk away.

It's true that there are government programs out there to help some homeowners. But they usually don't cost homeowners anything. You should ignore anyone who offers to get you into one of these programs for a fee. We Buy Ugly Houses has helped many homeowners avoid foreclosure. We understand how uncertain life is and how you can get behind on your mortgage payments, whether it's due to illness or injury, lack of work, divorce, or any number of other problems. If your house needs repairs, no problem. We buy houses "as is."
Due diligence is key when choosing a cash home buyer.
If you intend to sell your house in San Antonio, and you need it sold as fast as possible, cash home buyers are a viable option. There's no need to avoid them altogether because you're wary of a possible scam. Doing a little bit of research and asking the right questions will help you know if the company is legitimate.

Be certain that your cash house investor is reputable, with a good history, an online presence, and positive reviews. Beware if your potential buyer gets defensive or avoids answering any of your questions. That's a huge red flag.
Trust We Buy Ugly Houses®.
We Buy Ugly Houses has been America's premier home buyer since 1996. Our trusted local property specialists will tour your home in person and can make you a fair cash offer, sometimes on the same day as our visit. No hassles. No games. Just honest business. We don't use pressure tactics, and we won't call you unless you reach out to us first. We respect your time and your privacy.

We put our sellers first, with personalized service and support. That's why we get so many good reviews from our sellers, and why we have a 95%* satisfaction rating. We walk you through every step of the process and guide you from offer to closing. We work with you to help determine the best solution for your unique needs.

Call us today at 866-200-6475 to get a free, no-obligation appointment with a cash home buyer you can trust.