Questions to ask a cash home buyer
Not all cash home buyers work the same way. It's important to make sure you're working with a legitimate buyer who can answer these questions.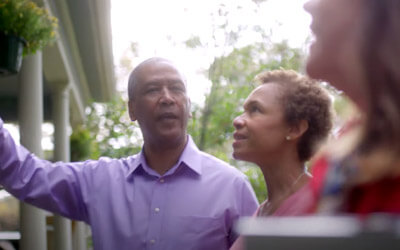 What should you ask a cash home buyer?
There are many advantages to working with cash buyers. They offer convenience and quick closings, and most of them will buy houses that need repairs or updates. All of these benefits are worth considering, especially if you need to sell your house quickly because of life-changing circumstances. But you still need to vet the company you're considering selling your house to. As you continue your search for a cash buyer, ask these questions to make sure they are reputable and trustworthy.
We Buy Ugly Houses® is always happy to answer any questions you may have. We'll answer the following questions along the way to see if we could be a good fit for your needs.
How long have you been buying houses in the area?
You need to look into their history. How long have they been in business? How many houses have they purchased? Do they have local investors in your area or are they out of state? This information is helpful because some people who claim to be cash home buyers can't follow through with their offers or are trying to collect leads to sell to other companies.
If they're inexperienced, they might not know how to handle trickier situations and cut through red tape like selling a house in probate. It's best to find a company with experience—you don't want to end up being someone's test run. A trustworthy company won't have a problem explaining their background and answering questions about homes they've purchased.
We Buy Ugly Houses® has been in business for more than 25 years and has purchased over 140,000 houses across the United States. We're a network of more than 1,100 locally owned and operated franchises with expertise in almost every city in the United States.
Can you provide reviews and testimonials?
A great way to learn about a company is to look at the reviews of previous clients. Would they recommend the company to someone else? Did the sale go as planned? Was the company easy to work with?
You can look for reviews on Google, the Better Business Bureau, and the company's own website. If the company is in good standing and has had lots of past clients, it should post reviews on its website. If the company doesn't have a website or if it only has a few pages with very little information, that's a red flag.
We have a 96.1% customer satisfaction rate and have hundreds of reviews from previous clients. We're dedicated to making sellers happy—just see for yourself.
Can you provide immediate proof of funds?
If a company has the means of providing proof that they can afford the purchase, it is a great sign that they're legitimate. Some companies that buy houses for cash may have the best intentions to make the purchase, but then can't get the funding in place and back out of the deal at the last minute. To avoid potential issues, it's an acceptable practice to ask for proof of funds. Don't be afraid to do so.
Our property specialists have access to our exclusive financing portal, and with over 25 years of experience, we've built long-lasting relationships with lenders, making financing easy.
How do I need to prepare my house before the sale?
It's important to know what the buyer expects you to do up front. If they've agreed to buy without an inspection, it's important to ask if they require you to repair any issues that are visible to the naked eye, like a broken faucet or light fixture.
Do they expect you to leave the house in as pristine a condition as possible, or do you not have to clean it at all? Do you have to pack up the entire house, or can you leave that old recliner you no longer want? Make sure you discuss the expectations up front so you know what work you might need to do.
With We Buy Ugly Houses®, you don't need to repair, renovate, or even clean in order for us to buy your house. We buy houses "as is," and we mean it. You can even leave any unwanted belongings, and we'll take care of them.
How long does it take to close?
Typically, selling to a cash home buyer is faster than selling to a traditional buyer. If they aren't sure when they can close or say that it could take months, you may want to keep looking. After you accept the cash offer on your house, most buyers can close quickly, but they should also work with you to pick a date that fits your needs. If they're pressuring you to close before you're ready, that's a bad sign, too.
We can close quickly, sometimes in as little as three weeks, or later, if that's more convenient for you and your timeline.
Do you charge fees or commissions? Who pays the closing costs?
It's important to understand any fees or commissions that a cash buyer might charge. Some iBuyers operate by charging a commission for buying your home, while others charge hidden fees at the last minute. Some buyers may cover closing costs and others might not.
If they're not clear on what costs are associated with the sale, it's time to look elsewhere. Commissions, fees, and paying closing costs are all typical expenses when you sell on the traditional market. When working with a cash buyer, not having all of those extra costs should be a benefit.
We Buy Ugly Houses® doesn't charge fees or commissions, and we pay typical closing costs, saving you money.
Can I sell a house from out of state?
Let's say you've inherited a house and need to sell it out of state. It's important to know where the cash home buyer is comfortable operating. Also, beware of any fees they want to tack on for selling a house from out of state. You shouldn't pay fees just because you're living somewhere else. It's important that the buyer is flexible and can work with you even if you can't go to the house very often. It could be beneficial to find a company that has multiple locations so you can find someone in the area that you need.
We have over 1,100 franchises spanning the United States. We can buy a house for cash almost anywhere. You can look for a location near you, or call 866-200-6475 to find the nearest property specialist.
We've purchased many inherited houses and homes in probate and know how to handle difficult situations and cut through red tape.
Have more questions?
It's important to ask these questions to any potential cash home buyer that you may want to work with. You should feel comfortable enough with them to ask for clarification or more information about any step in the process.
We're happy to answer any of these questions in more detail and any additional questions you might have. We work with sellers to help them find the best solution to their specific situation.
Call 866-200-6475 or book a free, no-obligation consultation.