Avoid real estate fraud in Phoenix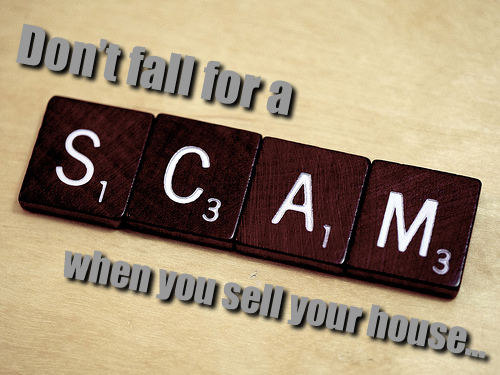 Don't fall for housing fraud in Phoenix.
Selling a house in Phoenix, Arizona but worried about falling for housing scams? You're not alone. Unfortunately, rates of fraud in the state of Arizona are on the rise. According to Corelogic, property fraud risk alone has risen by 23% from 2022 to 2023.
But don't worry. Having the right information, like knowing what types of scams to look for as a Phoenix home seller and what you can do if you become a victim of a scam, will help you protect yourself from getting taken advantage of.
Wire fraud
Wire fraud transfers are one of the most common types of fraud in Arizona. Wire fraud can cause considerable financial loss to sellers. Scammers will contact sellers through email or text message pretending to represent an escrow service or title company. They will then request a wire transfer from you under the guise of completing the closing process on the sale of your house to an interested buyer. Once you have sent the money, wire fraud is impossible to trace, and that money is immediately gone.
Phoenix home sellers need to protect themselves by always confirming transfers with their banking institution before sending funds, and never wiring money based on instructions received in an email or text message without first confirming the legitimacy of the requestor.
Mortgage fraud
Mortgage fraud occurs when someone takes illegal actions to appear as a legitimate buyer for a property. The borrower may misrepresent their financial background and identity on loan applications in order to qualify for a house or property that they cannot normally afford.
If a transaction involves confusing documents that are passed between several interested parties without any record of these microtransactions, it is probably fraud.
If you find yourself a victim of mortgage fraud, you should contact the
Arizona attorney general.
Rental scams
Rental scams can leave home sellers feeling tricked and defrauded. Scammers will post fake rental listings online, then collect rent payments from unsuspecting victims who think they are renting a property. If you are looking to downsize and want to go from homeowner to renter, be wary of these types of fraud.
When you're selling your house in Arizona to move into a rental property, here are some tips on how to protect yourself from becoming a victim of a rental scam:
Always look at the property before you rent it.
Verify that the landlord is legitimate.
Don't pay for anything without seeing the contract or lease agreement.
Don't accept cash payments, and never wire money to cover any costs associated with your rental.
Foreclosure relief scams
One of the most common real estate scams in Phoenix is the foreclosure relief scam. Scammers take advantage of sellers who are underwater on their mortgages and looking for assistance to avoid foreclosure on their homes.
Promises of reduced mortgage debt payments and debt relief are used to charge sellers with exorbitant upfront fees. Once the seller pays, the scammer disappears with the money, and the seller is left with the same problems they had before and less money to deal with them.
To protect yourself from foreclosure relief scams, home sellers should be wary of any offers that seem too good to be true. You should always talk to a verified lender about your options.
Work with a buyer you can trust.
When you want to sell your Arizona house,
you don't want to get tricked by a scam.
Unfortunately, there has been a rise in how many Arizona sellers have been victims of cash-for-houses scams. With the increasing number of
"we buy houses" scams,
always do your research and read online reviews when working with a cash home buyer.
We Buy Ugly Houses
®
doesn't use pressure tactics and provides free, no-obligation consultations.
We have a customer-forward, guided selling process that won't leave you wondering where you are in the process. We assist every Phoenix seller through the entire transaction and are more than happy to answer any questions about our services, our standards, and your journey with us.
Contact us today at
866-200-6475
to
get your questions answered
about our cash home-buying process.