Locations: Phoenix
Tips On Selling Fast In Phoenix - America's #1 Home Buyer
Sell My Home Fast in Phoenix
Fast way to sell your house in Phoenix
Here's How to Sell Your House Fast in Phoenix Az
A homeowner's decision to sell is a very personal one. The reasons for selling can be good and bad: facing foreclosure, divorce, relocating due to a new job, or perhaps they've even inherited a home and just need to sell quickly in order to avoid paying an additional mortgage.
Whatever the reason you want to sell your house in Arizona, it's paramount that a seller knows the right way to sell their home quickly. Here are a few tips to help you do just that.
Call We Buy Ugly Houses® at 866-200-6475
Clean and Declutter 
Clean your house as if an important guest is coming over. In truth, anyone who comes to your house is very important because they may be the one who ultimately purchases your house. If cleanliness isn't your strong point, it's a good idea to hire a cleaning crew who will pay attention to the finest details.
Decluttering and cleaning go hand in hand with cleaning, but it's something that home sellers often forget. While buyers don't want to see a totally empty house, it's smart to leave a little bit of room in order to make the house feel spacious and allow room for the buyer to project their own design ideas.
Place Your Listing Everywhere 
Even though your agent should typically take care of such things, make sure to check that your listing is on Zillow, Trulia, and Realtor.com at the bare minimum. Also, be sure to make use of social media when possible.
Call We Buy Ugly Houses® at 866-200-6475
Take Great Photos 
No matter how beautiful a house is in real life, it can always look better. Hiring a photographer to do just that is a great idea. Photographers can take pictures of your home in optimal conditions so that your listings jump out to buyers and invite them to reach out.
Update the Inside and Outside 
The most important thing to remember when putting your house on the market is that buyers generally want a home that is move-in ready. It is the exception, not the norm, that you find people looking for a fixer-upper. The fact of the matter is that most buyers (and first-time buyers in particular) want as little hassle as possible. In order to meet this expectation, one should update fixtures, apply fresh coats of paint, and make the landscaping look as attractive as possible. It's also prudent to consider the latest design trends and instead of fighting them, go with the flow.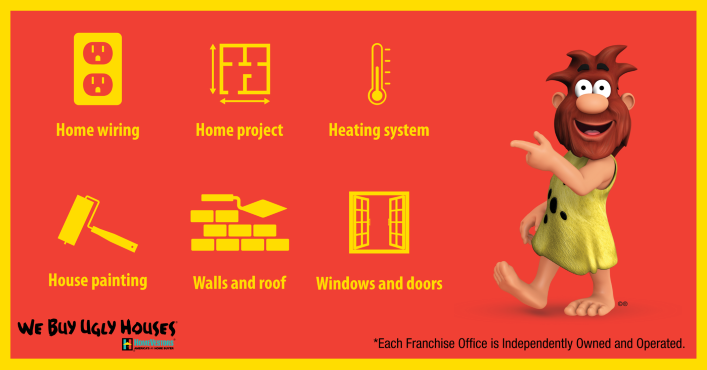 Top Problems When Selling A Phoenix Home Fast: 
Having to pay thousands in realtor fees & repair costs

Investing time and money into preparing the home for showings

Spending months on the market trying to sell with no offers
If This Is You - We Can Help! 
30 Days Closing, "AS-IS" Purchase, Cash Payment 
Want to know the fastest way to sell your home? Working with expert home buyers like We Buy Ugly Houses. We're the nation's #1 home buying professionals and we can buy your home without you needing to do any prep work.
When We Buy A House: 
We pay most, if not all standard closing costs

We buy "as-is" — no repairs, cleaning or repainting necessary

We close fast
Learn about We Buy Ugly Houses® and see for yourself why we are America's #1 Home Buyer!
The Easiest Way To Sell Your House In Phoenix, AZ
When you've been in the business this long, you value what really matters. Our sellers. We Buy Ugly Houses® has been America's #1 Home Buyer since 1996, and it's all thanks to the more than 110,000 satisfied homeowners that have sold their houses to us.