Milwaukee cash homebuyers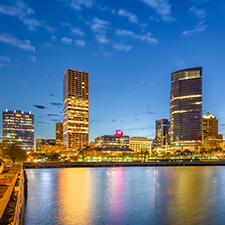 For most people, the majority of their personal net worth is tied up in their house. If you're in need of cash, selling your Milwaukee house "as-is" may be a great way to go. When you sell a house the traditional way, the funding from a bank or lender may fall through. You usually have to make repairs, paint, and worry about staging and curb appeal.
You may lose a good portion of your capital gains or appreciation to commissions. And you have to deal with amateur home investors. Choosing the "for sale by owner/FSBO" route can also be a real hassle, with all its unique headaches.
If you need to sell your Milwaukee home for cash, then our local home investors are here to help. We can quickly make a cash offer for your house, and get you the money you need. We Buy Ugly Houses are professional and experienced home buyers and investors. We are your local and trusted "as-is" homebuyers for a reason – we've been at it over two decades.
Milwaukee home investors
Your local, independently-owned We Buy Ugly Houses franchisees know that when you want to sell a house, it can be stressful. Waiting for approval from the bank, dealing with agents, accommodating multiple showings, making repairs, and spending hours cleaning can be difficult and time-consuming. But selling your house to us can be easy and stress-free. Why is that?
It's because we are experienced home investors, and we buy Milwaukee houses for cash. We buy houses in any condition "as-is". We also close on your home quickly – sparing you having to mess with numerous showings, agents, banks and headaches. We are home buyers in Milwaukee!
Preeminent cash home investors
We have been America's preeminent cash homebuyers since 1996. You can trust us to make a fair cash offer on your Milwaukee home "as-is"…an offer that won't change at closing. Avoid the hassles of trying to sell your house "for sale by owner/FSBO." Contact us today!
What Selling Your House "As Is" Means
We Buy Houses "As-Is" in Milwaukee
Selling your house the traditional route requires you to have it inspected, possibly pay for repairs, have it painted, and even extensive cleaning. It's expensive and time-consuming. Then it can take months to sell – if it does sell. Trying to sell your house "for sale by owner or FSBO" can take just as long. Other companies that buy houses for cash in Milwaukee might even change their offer. We do things a different way.
We are experienced home investors and "as-is" home buyers. As cash home buyers in Milwaukee, we buy houses in any condition. You really can sell your home "as-is". That means:
No cleaning. We're "as-is" home buyers. We don't want you to spend any time or money fixing up your house. We will take care of it, so you don't have to worry about it.
No repair work. We don't want you to spend any time or money fixing up your house.
No waiting on banks. It can feel like banks take forever to give approval. But we pay cash, so it's possible to close in as few as three weeks.
No agents or showings. You don't have to wait for delays or accommodate open houses and a long line of strangers coming in to look at your home.
No paying typical closing costs: We can take care of those for you.
It's easy to get a fast cash offer for your house with We Buy Ugly Houses®. We've set up our whole process to make things easy for you.
Sell My House Fast Milwaukee
We Buy Ugly Houses, a part of Homevestors, is among the largest companies that buy houses for cash in Milwaukee. We are trusted Cream City home buyers and are experienced home investors. You can trust our buyers, process, and firm cash offers not to change at closing.
Cash for houses Milwaukee
We pay cash for your house. Our system is designed to be fast and easy for you. Seriously.
Our process is designed to remove the stress from the typical house selling process owners face. It's designed so you can get the cash you need to walk away from your current house and move on to something new.
Here is how we buy houses in Milwaukee:
Schedule a free house visit from our local Milwaukee professional cash buyers. Contact us and set up a house visit with a trusted We Buy Ugly Houses franchisee. We are independently owned and locally operated home investors. We will do a free consultation at your house, answer any questions you may have, and walk you through our process.
Get a fast cash offer on your house. We can make a cash offer—on the spot. And unlike other cash house buyers or quick house buyers, our firm offer will stand. No bait and switch. No games.
Move forward. We pay cash for houses, so you can walk away with cash in your pocket and peace of mind.
Call Us to Get Started
Call We Buy Ugly Houses® at
We Buy Houses For Cash Milwaukee
Sell my house in Milwaukee
If you're interested in selling your house in poor condition or just don't have the time or desire to sell via traditional methods, finding an interested and reliable buyer is the first step. Contacting us can be your best choice.
We are experienced home investors, "as-is" homebuyers, and understand your situation. We know how to make selling your home easy and carefree. We make the process much easier than FSBO or "for sale by owner" route that exasperates many. We can give you our personal time and attention and we truly care about making your transition simple. We are trusted professional Milwaukee home buyers, and we're here for you.
Avoid For Sale By Owner in Milwaukee
"As-is" home buyers Milwaukee
HomeVestors®, better known as the We Buy Ugly Houses® people, is a national network of professional home investors who understand the urgency of homeowners needing to sell their home quickly for cash. That's why when we buy homes in Milwaukee, we promise fast closings, and we pay 100% cash for houses, townhouses, condos, duplexes, and multi-family buildings. We help homeowners avoid FSBO headaches.
We Buy Ugly Houses lets sellers in Milwaukee know that we are willing to buy houses that are either in poor condition or, for several reasons, might not be attractive to all buyers. This includes some of the following reasons:
Houses with serious structural issues such as foundation, roof, plumbing, or electrical problems.
Houses located in less than desirable or high-crime neighborhoods.
Houses that are located in flood plains or in areas prone to the effects of weather.
Houses with high-interest rates or undesirable mortgage financing.
Houses with payments or balances that are too high for the owner to handle.
Houses that have bad memories for the homeowner, such as death, divorce, or tragedy.
Houses that no longer serve the needs of the homeowner — too big, too small, or an inconvenient location.
Call We Buy Ugly Houses® at
If you are thinking, 'sell my home fast in Milwaukee' read on!
We are Milwaukee home investors
Cash home buyers in Milwaukee are often much better than buyers who depend on a bank to fund the purchase. Over 100,000 homeowners across the USA have trusted us for years making us America's #1 home buyer since 1996. If you are considering selling a troubled or even abandoned house in Milwaukee, we are the trusted investors who are experienced and can help you throughout the process. We handle each and every situation personally and professionally. Give us a call or request your free, no-obligation consultation today!
If you want to sell a house fast, we are ready to buy. Check out our FAQs, connect with us online to request a free, no-obligation consultation, or give us a call at 866-200-6475.
Milwaukee housing statistics
Milwaukee, often known as the Cream City, has a population of around 600,000 according to recent US Census estimates. Milwaukee has seen some revitalization in the areas around the new FISERV Forum. There are also great areas around the Milwaukee Brewing Company for good food. The old Pabst Building is there too.
The most recent Milwaukee median home value figure sits at $135,570. This is up from $122,300 in 2017, and up 6.8% from 2019. In early 2020, the average days on market was 88 days. This number for Cream City home buyers is a bit higher than some other markets around the US, but still a good figure for solid overall housing demand.
Historic third ward
Just south of downtown, the Third Ward contains many restaurants, boutiques, and art galleries. The Milwaukee Institute of Art & Design is in this area. The Third Ward Riverwalk and Milwaukee Public Market are also big attractions. Summerfest, one of the world's largest music festivals, is held nearby every year.
While mainly a shopping and arts district, quite a few people live in the Third Ward. Condos inside of restored warehouses are popular for their tall windows, views, and Cream City brick architecture. Quite a few condo buildings have a waterfront view along the river.
We Buy Ugly Houses Milwaukee
We buy houses throughout the Milwaukee area including Milwaukee, Ozaukee, Racine, Washington, Waukesha counties and the surrounding communities.