A home seller's guide to relocation
Relocation complicates the process of moving and selling your home. It's important to know what to expect and what options you have.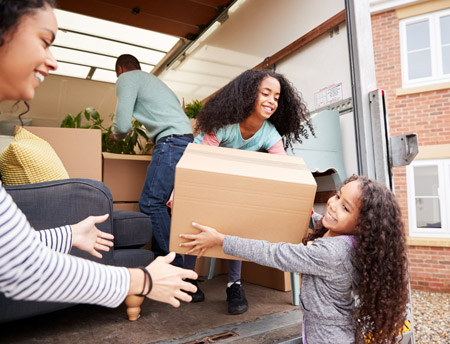 How does relocation affect the moving and selling process?
If you've moved before, you already know all the hard work it takes just to change neighborhoods. When you relocate, whether it's to a different city or to another state, you have to think about moving, selling your current home, and finding your next place to live. And because some relocations happen under a short time frame (like a job relocation), you might have to work fast. Juggling between selling your house and moving to your new city makes it easy for things to fall through the cracks if you aren't diligent during the whole process.
Moving costs and considerations
It is important to keep in mind how far you are relocating. Whether you are moving to another city or across state lines, moving expenses tend to vary. Moving services for relocation can cost anywhere from $2000–$9000 on average. If you need help with packing, that can potentially cost you another $500–$4000. You should also consider getting insurance for your belongings while they are in transit. Typical moving insurance coverage can cost up to $8 for every $1000 in value.
Sometimes a relocation happens because you get a new job. Most companies offer relocation packages for new employees. These packages often include financial help with moving costs and temporary living expenses. If the moving process seems too complicated, a relocation specialist may also be able to help. They can assist you with packing and shipping, as well as provide you with resources for services in your new area.
When to sell your house
When it's time to figure out how to sell your house and move out of state, consider your finances and when you would like to sell. There are a few options when selling your home for relocation, depending on what is most cost-effective and convenient for you.
Selling your house after you relocate
Relocating can be difficult, and many homeowners may choose to delay the selling process until they have already moved. This option can reduce immediate responsibilities and help you get to your city faster. However, you would also be making payments on two properties until you eventually sell, and the selling process itself would be harder to do remotely.
Selling your house before you relocate
If selling remotely sounds too difficult, you could try to sell before you move. This is an attractive option for most families. An advantage of selling before you move is that you'll have the money from the sale to help you start your new life. However, if you have a definitive moving date, then you also have limited time to find a buyer and close the sale.
Traditional selling
Regardless of whether you sell before or after you move, the traditional selling process is expensive. When hiring a real estate agent, expect to pay closing fees and commissions. Typically, real estate agents will ask homeowners to get their houses "show ready." This entails making cosmetic updates, repairs, and deep cleaning. Sellers need to budget for these additional costs.
Keep in mind the real estate market is temperamental. It can take up to two months to sell a house on average, which might not be ideal. You may need to accept a reduced offer to make the sale happen on schedule.
For sale by owner
Another option is to sell your house yourself. This is known as FSBO, or "For Sale By Owner." You would be saving money on agent commissions, but selling by yourself puts more pressure on the homeowner. You will have to market the house and find a buyer without the help of an agent. On top of that, you can expect to pay some closing costs. If you choose FSBO, you'll likely need to sell before you move, since coordinating the sale remotely would be difficult.
If none of these choices work for your schedule or your wallet, there is one more option:
cash home buyers
.
Cash home buyers
Many people face time constraints when they relocate. If you need to sell your house and move out of state, you've got to move quickly. If you're moving due to a job relocation, you generally have around thirty days to figure it out.

When you're short on time and need cash to make your next move, research your local cash home buyers. The cash home-buying process is similar to FSBO in that you don't need to hire an agent. There is no middleman. Cash home buyers help you save time and money with their ability to close quickly.

Depending on your circumstances, the most viable option may be to sell to a cash home buyer like us.
Work with We Buy Ugly Houses®.
We Buy Ugly Houses® is America's trusted home buyer. We've helped over 140,000 families sell their homes fast, and we have plenty of experience helping our customers make relocation easier.
If you're experiencing a job relocation and find yourself pressed for time, we can help. We offer a fast, free, no-obligation consultation, so you don't have to wait for a potential buyer. Often, we can give you an all-cash offer after our first visit.
We buy homes "as is." That means you don't have to worry about paying for repairs or cosmetic updates—you don't even need to clean! We'll also take care of any unwanted belongings left on the property so you can move that much faster.
With over 25 years of experience buying houses, our long-lasting relationships with lenders make financing easy. That means we can close fast, sometimes in as little as three weeks. Better yet, we pay all typical closing costs, and we don't charge commissions, which saves you money.
With cash in your pocket, you can relocate with ease.
Have more questions?
It's important to be as informed as you can while you sell your house during a relocation. Trying to sell your home is challenging enough, let alone doing it while moving to a different city or state. We'd be happy to give you more information about our 3-step buying process and how we can help you sell your home, as well as answer any additional questions. We work with sellers to help them find the best solution to their specific situation.
Call 866-200-6475 to book a free, no-obligation consultation.