We Buy Ugly Houses® can buy your house fast for cash.
Over 140,000 homeowners have trusted us when selling their home since 1996, making us America's #1 Home Buyer. We are a trusted premier home buyer in Houston, and we make it easy to sell your house "as is". We buy houses in any condition—no repairs or painting needed. If you have a house in the Houston area that you'd like to sell fast, we can make a fair cash offer that you can trust.
Cash for homes: We pay cash when we buy houses.
Quick home buyers: No delays from banks, lenders, or financing.
More cash for your house: We pay typical closing costs.
We buy houses "as is": We buy homes in any condition: no cleaning, painting, or repairs.
Sell your house fast: We can close quickly, so you can get on with your life.
No "for sale by owner" hassles: We make a fair

cash offer, and

take care of home repairs.
Save money selling your house: We don't charge fees or commissions.
Whether your house is ugly or not, we can make you an all-cash offer you can trust. Deal with professional and fast house buyers who won't waste your time. Unlike some home buyers in Houston, when we make a cash offer, we stand by it. We don't back down or try to lower the price during the closing process when we buy your Houston home.
Our quick 3-step process:
Let's Talk​
Our local property specialist will give you a free, no-obligation consultation at your convenience.
Get a Fair Cash Offer
You sell directly to us. That means absolutely no expensive real estate agent commissions.
A Fast Closing
Avoid the hassle of showings and open houses. We can close as quickly as three weeks, or later, if you like.
It's that easy to sell your house fast for cash in Houston! It really is that simple and hassle-free. We've been buy houses for over 25 years.
Trust our We Buy Ugly Houses® Houston team. Benefit from our decades of experience. Experience that other companies that buy houses in Houston simply don't have. If you're wondering, "Who will buy my house?" or "How can I sell my house fast?"—look at companies that pay cash for houses "as is." Contact our Houston team today!
We buy houses in the Houston area.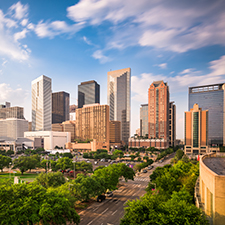 We're interested in all types of residences: Single-family houses, duplexes, condos, townhomes, and multi-family apartments. If you have a residential property in the greater Houston area that you need to sell quickly, we're ready to pay cash. We buy houses "as is" and are fast home buyers. We've been professional, well-trusted home buyers for well over 25 years. Contact us and you'll see why Houston homeowners trust us.
Sell any Houston home for nearly any reason.
As America's #1 home buyer, we are sympathetic to your situation and fully understand your need to sell your home fast and close quickly. We've helped thousands of people in the Houston area move on from virtually every situation imaginable, including:
Houses that are ugly or in disrepair
Unwanted houses from an inheritance
Hoarder houses
Divorces
Job relocation
Houses damaged by fire or natural disasters
Falling behind on payments
Rental properties that are no longer wanted or falling into disrepair
Avoiding the hassles of "for sale by owner."
Call us if you don't want the hassle of selling your Houston home for sale by owner! They can often make you an offer on the spot, and we don't charge commissions and pay typical closing costs.
Sell your Houston house to America's #1 home buyer.
Since our founding in 1996, we've bought more than 140,000 houses across the US. While markets may vary from state to state, some things are consistent in every area we serve. People in Houston and across Texas have come to trust us as fast home buyers. We maintain the highest standards when you sell to us:
You deal with a local, independent buyer—they live and work in or near Houston
We make all-cash, "as is" offers
We are fast house buyers and close quickly—in as few as 3 weeks
We buy homes in any condition
We can close on your schedule if you need time to move
Once we make a fair cash offer to buy your house, we stand by it.
Adam was very prompt in returning my call and very professional to work with. He matched an offer from another company which I was happy about. The closing went very well and I felt I was treated fairly throughout the entire negotiation.
-Marlin B.
Sell your Houston house fast
Sugar Land. Humble. Spring. League City. The Houston area is a vibrant market, and we're ready to make a cash offer for your house. We pay cash for Houston houses. Don't wonder, "Who will buy my house in Houston?" We buy houses "as is" in Houston! Simply contact us for a no-obligation consultation.
We'll come to your property free of charge, then send you a written cash offer that you are completely free to accept or decline. We've been buying Houston homes for decades and are trusted cash home buyers for those wanting to sell their home fast for very good reasons. We buy houses "as is" in Houston. Find out why today!
We love buying houses in Houston.
We think Houston is one of the best places to live in the US, and we love buying and selling houses here. We are based in Texas for a reason. If you're planning on relocating to the area, here's some general information that you may find beneficial:
Houston Population: The Greater Houston area is the fifth-most populous metropolitan area in the USA. The city of Houston is also the fourth-largest in the United States with an estimated population of 2,303,482. According to the US Census, 45% of the population is Latino, 24% Caucasian, 22% African American, and 7% Asian.
Houston Housing Market: According to Zillow, the median home value in Houston is $325,000 with a median rent price of $1,495. The median price per square foot is $160, which is higher than the Houston Metro average of $119.
Houston Climate: In the cooler months, Houston averages low-40s to mid-60s. In the warmer months, the city averages mid-60s to high-90s. Houston occasionally suffers from severe weather like flooding and hurricanes. If you own a home in Houston or plan to own a home, it's important to consult with an insurance agent regarding homeowner's insurance that covers damage caused by floods.