The real cost of home repairs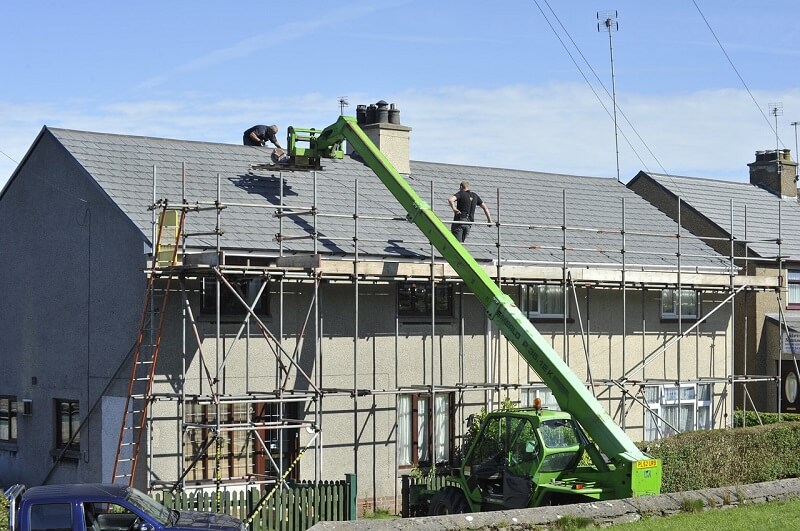 Is it worth it to renovate a house before selling it?
If you're
trying to sell a house
that needs repairs, making a few home upgrades can really boost its property value. However, these are not always necessary in order to sell. To determine if it's worth fixing up, it's important to consider the cost of home repairs, how much of an increase in home value any repairs will bring, and the timeframe you're working with.
If your house needs major structural or mechanical repairs, these can be expensive and time consuming. You may not have the resources to make these fixes before listing and selling. When you're dealing with a house that needs work, you should be informed about the most common repairs that home sellers deal with and their associated costs, as well as how to sell a fixer-upper house if you decide that repairs aren't viable or necessary.
What is the average cost of home repairs?
The average cost of repairing problems in a house can greatly vary depending on factors such as location, size, and type of repair. The most common home repairs include the following.
How do you know if a house is worth fixing up?
Now that you know what to expect to pay for different types of home repairs, a question you may be asking yourself is: "Fix or sell?" It can be difficult to determine if you should fix up your house for sale or sell the house "as is." There are a few key factors to consider:
Repair costs
First, consider the total cost of repairs. Compare that cost to what you are expecting to get from listing your home on the market. If there are multiple issues and it will cost more than you could get back in return, it may not be worth repairing.
Location and desirability
Is there high demand for homes in your area? Are buyers looking for move-in ready properties? If so, making crucial repairs before listing may be worth the effort and money. On the other hand, if demand for houses in your area is low, or if it is a buyer's market, it may still make sense to sell "as is" and skip out on large repair costs.
Increase in home value
When considering any home improvement project, remember that your return on investment may be limited, depending on where you live and the current market conditions in your area. Small updates to items like paint and flooring can have a positive effect on the perceived value of your home, but they may not add enough additional value to recoup their costs through an increase in sale price.
It's important to weigh all your options carefully before deciding whether you should sell your house "as is" or fix it up—so a free consultation with a cash home buyer like We Buy Ugly Houses
®
can help you make an informed decision.
What's not worth fixing when selling a house that needs repairs?
It might be tempting to fix up your house as much as you can. After all, you want your home in top condition so that it sells quickly at a great price. However, when determining cost vs. value, there are some home repairs that you may be able to avoid:
Minor home repairs
If the repair is minor and won't impact the home's functionality or value (like a chipped cabinet door), it's not worth your time and money to make the change. This can be especially true for cosmetic repairs that won't be noticed in an inspection.
Extensive home repairs
If the repairs require intrusive work that could include working on the foundation or structure of your house, such as ripping out drywall or removing flooring, you might not get enough from the sale of your house to cover the repair costs and make a profit. It may even be in violation of local codes or regulations to complete these tasks without a permit first.
"Optional" home repairs
When it comes to bigger projects like replacing major appliances like HVAC systems or water heaters, it's not necessarily worthwhile for a home seller. While replacing these items could make your home more attractive upon sale and increase its market value, they have limited life cycles and will eventually need to be replaced by the new homeowner anyway.
Cost vs. value
To decide whether repairing something is worth your money, it would be a good idea to get quotes from multiple professionals for an accurate estimate on the repairs you want. You should also look at houses in your area that are in a similar condition to yours, as well as those that have had the repair or update you are considering. This way, you can compare what value the repair or update adds to your house. If the cost is high, depending on market conditions, you may need to rethink your selling options.
What are your options when selling a house that needs repairs?
Selling a house that needs repairs can be complicated. If you'd like to pursue the traditional sale route, you should expect to make some repairs to your home or potentially wait a long time for a buyer. Mandatory inspections and disclosures will also reveal any problems in your house and may lower its sale value. If you sell FSBO (for sale by owner) or a cash home buyer makes an offer, you may be able to avoid high home-renovation costs and get a quicker sale. Keep in mind that when you sell FSBO, you should expect to handle most of the selling process yourself, and you might have to provide concessions to buyers.
Should I fix my house or sell it "as is?"
It can be difficult to know which selling option is ideal. In some cases, it may be more beneficial to fix up the property before putting it on the market. In other cases, it may be better to sell it "as is" without making any renovations. Selling "as is" may even land you a higher profit than investing in those expensive home repairs. Regardless of which option you choose, it's important to consider home-renovation costs before making any decisions.
We buy fixer-upper houses.
If you're thinking, "I don't want to pay for these repairs; I'm selling my house 'as is,'" then We Buy Ugly Houses
®
is the perfect solution for you. Selling to us means you don't have to bear the cost of a stressful house renovation.
We Buy Ugly Houses can buy your house just as it is, problems and all, and pay you cash for it, sometimes in as little as three weeks. No showings, no commissions, and no typical closing costs—just cash for your house! There's no quicker or easier way to sell a fixer-upper, and it won't cost you a thing to get a no-obligation offer from us. You have nothing to lose but the responsibility for the repairs you've been living with!
Contact us today at
866-200-6475
for a free, no-obligation consultation and
get a fair, all-cash offer
on your house!