How to sell a house with water damage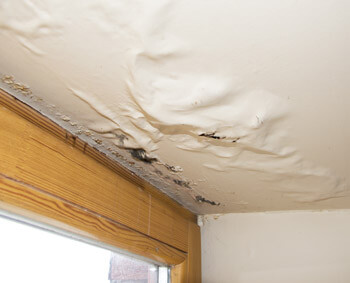 Selling a house with water damage
When it comes to selling a house, water damage can be an unwelcome surprise. Not only can it cause serious and costly damage to a house, but it also makes the process of putting your property up for sale much more complicated. Real estate agents can often help you sell a house with minor water damage, as long as it's disclosed to potential buyers; however, if the damage is extensive, many buyers may walk away and finding an interested buyer could take a lot more time. Depending on the extent and location of the water damage to the house, it could also have an impact on the home value. Since water damage can often be difficult to repair without hurting your house's resale value, sellers should research their options carefully before hiring professionals for any repairs needed.
What is water damage?
Water damage happens when water finds its way into places where it shouldn't be.
It can cause:
Structural damage
Mold and mildew
Warping of wood
Electrical problems
Common causes include:
Burst pipes
Broken or malfunctioning appliances
Natural disasters such as flooding or hurricanes
A leaking roof or foundation
A poorly sealed window or door
If left unchecked, water damage can cause lasting structural problems in a home that can make it difficult to sell. Thankfully, water damage is usually covered by homeowners insurance, so don't hesitate to contact your insurer in the event of any major water-related issues. Knowing this should provide some peace of mind as you work through the process of repairing your property in order to make it marketable for potential buyers.
How do you identify water damage in a home?
Identifying water damage in a house can be tricky. While the more obvious signs are standing water or mold, there are several other indicators that you should be aware of. To ensure that potential buyers don't find any surprises during the inspection, you should look for any signs of potential water damage prior to listing it.
Here are some signs you should look out for:
Peeling paint and wallpaper
Discolored carpet and flooring
Loose tiles or discolored grout in bathrooms and kitchens
Cracked foundations or walls
Water stains that are brown or yellowish in color
Rusting metal pipes
Musty smells
If you want to sell a house with water damage, it is important to address the issue before listing your home. Make sure that the area is free of standing water and repair any source of leakage. It's also important to have professional mold remediation done to avoid any potential health hazards for future buyers.
Is water damage covered by home insurance?
While the answer varies based on the type of policy and your provider, most policies cover water damage from broken pipes, flooding, and other disasters. But there are a few things to consider:
Type of water damage
Homeowners insurance typically covers sudden or accidental damage from burst pipes and overflowing appliances, but it doesn't typically cover natural disasters such as floods, hurricanes, or earthquakes. Flood insurance is sold separately.
Exclusions and limitations
Homeowners insurance almost always has exclusions and limitations in place for water damage. For example, your policy might not cover mold damage that results from a plumbing leak.
Deductible
Your deductible will also play a factor in the extent of coverage you receive. If you have a high deductible, you may be responsible for covering any out-of-pocket expenses associated with the repair or replacement of items damaged by water before your insurance kicks in.
If you are unsure about your policy, contact your home insurance provider for more information.
How to fix water damage in a home
When it comes to repairing water damage and preventing any further damage to your home, the best approach is to be proactive.
Identify leaks.
The first step is to identify any leaks or sources of internal moisture. Homeowners should inspect the ceilings, walls, and floors for signs of water damage such as discoloration, peeling, or mold.
Repair leaks.
Once you have identified any existing issues, you can begin the process of making repairs to prevent further damage. If possible, repair the source of the leak by replacing damaged pipes or repairing faulty plumbing fixtures. Sealing up drafts around windows and doors will also prevent moisture from entering the home.
Clean up once you find the leak.
Taking immediate action is essential when it comes to cleaning up any areas affected by water damage. Wipe down wet surfaces as soon as possible because standing water can lead to mold growth within 24 hours. Be sure to thoroughly dry all areas affected and check for any signs of mold or mildew afterward to prevent long-term issues.
How do you repair a house with water damage?
It's important to make repairs to any water damage in a home before listing it for sale. There are a few methods you can use to repair the damage and make the house attractive to prospective buyers.
Replace damaged materials.
If there are materials like flooring, drywall, or insulation that have been damaged or destroyed by water, they should be replaced. Consider hiring a professional if the job is complex or too time-consuming for you to handle on your own.
Clean and disinfect.
If any items have been affected by water, they should be thoroughly cleaned and disinfected to remove any bacteria or mold growth. This includes carpets, furniture, and wooden surfaces.
Repair structural damage.
Make sure you have any structural damage, such as cracked foundations or wall studs, professionally repaired. You must ensure the integrity of your home before selling it.
Dry out moisture.
Make sure all areas of the house that have been affected by moisture have dried out completely before selling it. Use fans and dehumidifiers if necessary. You may want to consider hiring a water mitigation company.
Can you sell a house with water damage?
When it comes to selling a house with water damage, timing is key. You will want to sell the house before the damage becomes too extensive and expensive to fix, or after you repair any damage. In order to do that, you need to know the various strategies available.
The best way to start is by understanding what type of water damage has occurred and what steps can be taken to repair it. You should also keep in mind how much money it will cost you to make these repairs. Once you know what repairs are necessary, you can determine the best strategy for selling your house. Here are some common strategies for selling a house with water damage:
Market your house "as is."
If you don't have enough time or money for repairs, your best option may be to market the property in its current state. This means listing your house "as is" and making potential buyers aware of its condition upfront.
Make minor repairs.
Making minor repairs can help improve overall curb appeal and make your house more attractive to buyers who might otherwise shy away due to the water damage. This might include painting walls, repairing drywall, or replacing carpeting or other materials that have been damaged by moisture exposure.
Price your home competitively.
Pricing your home competitively will help attract potential buyers who might be interested in purchasing a property in need of some work, but at a reduced price from the market value before any water damage occurred. It is important that you perform thorough research when setting your asking price.
Consider making buyer concessions.
If repairs are too expensive or time-consuming, you may want to try offering incentives to potential buyers in the form of paying buyer closing costs or providing some money for future repairs.
Selling your house "as is" to a cash home buyer
You can still sell your water damaged house "as is" without having to worry about doing everything yourself and without the possibility of losing a lot of money on repairs and renovations. When you sell to a cash home buyer like We Buy Ugly Houses®, you don't need to consider making any repairs or offering any buyer concessions. For over 25 years, we have helped home sellers get cash for their houses. You can sell a house with water damage to us because we buy homes in almost any condition.
We Buy Ugly Houses® makes it easy.
It doesn't matter to us if a hurricane has caused untold damage to your house. If you have rotting wood and mold growth, you don't need to worry. We don't even care if you have water damage that's not covered by insurance.
With We Buy Ugly Houses, we come to you for a free on-site consultation. One of our local property specialists will come to you, on your schedule, to assess your property. It doesn't matter what condition your home is in—you don't even need to clean before we show up.
From there, we can provide you with a fair, all-cash offer. We don't charge any commissions or hidden fees, saving you money.
If you choose to accept our no-obligation offer, we have the ability to close in as little as 3 weeks. If you need longer, We Buy Ugly Houses works with each home seller to determine the best timeline for the sale. Thanks to our long-lasting relationships with lenders, we can provide you with a fast, easy closing.
Contact us today for a free, no-obligation consultation to get an all-cash offer on your house!