How To Sell A House Quickly
Selling a house isn't typically a fast process. Learn some tips to help speed things up.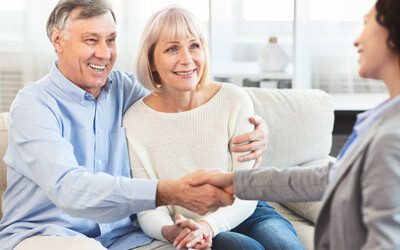 How long does a traditional house sale take?
Most people would prefer that their house sells quickly and doesn't sit on the market with little or no interest for months on end. For some people, a quick house sale is more of a necessity than a preference. Maybe they need the equity out of their current house to be able to buy another one, or maybe they can no longer afford their mortgage for a variety of reasons like job loss or divorce.
Unfortunately, most house sales take some time. The typical length of a traditional house sale from the day of listing it on the market to closing is a little over three months. That doesn't even take into account the weeks or months you may spend preparing your house for sale or searching for the right real estate agent. It also takes an average of fifty days for a typical buyer's mortgage to be processed, and that only begins after you've agreed to a purchase price. If you add all that up, a house sale can easily take over five months to complete.
Decide on the best strategy for selling.
There are three main ways to sell a house. You can hire a real estate agent, sell it yourself, or sell it to a cash home buyer. If you don't already have a buyer lined up and ready to make the purchase, selling it yourself, known as For Sale By Owner (FSBO), isn't typically the best option.
When you sell a house on your own, you're responsible for all of the marketing and promoting of the house without the benefit of it being listed on the MLS (Multiple Listing Service), which makes your house visible to other agents. All of the responsibilities for determining the listing price, booking showings, and negotiating offers will fall on you. It's a lot to take on if time is an issue.
One of the fastest options for selling a house is to sell it to a cash home buyer. You can sell your house fast for cash to an iBuyer, an individual investor, or a cash home-buying company, like We Buy Ugly Houses®. For more certainty with a quick house sale, it may be best to work with an iBuyer or a house-buying company rather than an individual cash home buyer.
If you're interested in selling to an individual cash home buyer, it's important to research their track record and see if they're prone to backing out of sales at the last minute. When looking for a cash buyer, a company with experience and longevity gives you the best guarantee for a smooth sale process.
Most cash home buyers and iBuyers work in a similar way. You can get a cash offer quickly, sometimes without even having someone come to your house. Often iBuyers will give you an initial offer sight unseen, but some charge hidden fees, so it's important to get the full details of their process before accepting their offer.
Many cash home buyers will purchase your house "as is," which will save considerable time and money on updates, repairs, staging, and cleaning. Once you accept their offer, you will sign a contract and the closing process can begin. They can close quickly; most cash buyers can close in a matter of weeks and may not even need an appraisal from the lender, which helps speed up the process.
Work with We Buy Ugly Houses®.
If you're looking to sell your house fast for cash, we have the experience and know-how to get you quick cash for your house. We understand that the traditional real estate market isn't ideal for every person's situation. Most buyers don't want to deal with the hassle of renovations or repairs. We buy houses "as is" and aren't scared of structural issues or outdated interiors.
After a quick visit to your house, you could get a fair cash offer on the very same day. If you accept our offer, we can close quickly, sometimes in as little as three weeks. If you need more time, that's okay too.
Sell with a real estate agent.
The housing market can be difficult to navigate on your own, and if you're saying, "I need to sell my house fast," working with a top real estate agent in your area could be the solution. Working with an agent takes longer than selling to a cash home buyer, but depending on the state of your house, you could get a higher purchase price. Selling your house on the open market is most beneficial for people who have updated houses that don't need repairs or renovations.
For the best chance of selling quickly with an agent, find an agent with a great track record for quick sales. You can ask potential agents what their average DOM (Days on the Market) is. If they have a low DOM, they likely know how to create a good marketing plan and price the house right for a quick sale.
Lean on your agent's expertise to determine the right asking price from the start. It doesn't look good to buyers if your price is too high and then you need to lower it weeks later when you're not getting interested buyers. You can also waste valuable time by pricing your house incorrectly for the current housing market.
When working with an agent, getting your house completely "show ready" will help speed up the sale. Here are the top recommendations for homeowners on how to get their houses ready for showings:
| | |
| --- | --- |
| Clean the entire house from top to bottom. | Remove all personal items, photos, children's artwork, etc. |
| Make sure the house is full of light—open blinds and curtains, clean windows, turn on lights before you leave for a showing. | Declutter and remove bulky furniture. Pack up knick-knacks, countertop kitchen appliances, and any excess in closets. You may need to rent a storage unit for these items. |
| Spruce up the exterior of your house. Curb appeal is important. Trim bushes, put fresh mulch in flowerbeds, repaint the front door. | Repaint any dark or bright-colored walls to neutral or light colors. You want the house to look like a clean slate. |
| Make any minor updates you can afford—new countertops, replace hardware on kitchen cabinets, update light fixtures. | Repair any minor issues—fix leaky faucets or running toilets, tighten wobbly ceiling fans, regrout dirty tile. |
Another tip is to be ready and flexible when it comes to showings. People want to see houses on nights and weekends with little or no notice. Make a plan for how you can leave quickly—where to store items for pets like water bowls, and how to hide daily items like shoes, jackets, and dishes.
It does take effort and maybe some elbow grease, but all the work you put into the house will typically lead to a faster sale. The more attractive your house is, and the easier it is for buyers to see themselves living there, the more likely you'll get offers quickly and may even get competing ones.
Sell your house fast for cash to us.
If selling on the traditional real estate market seems overwhelming or too time-consuming, consider selling to We Buy Ugly Houses®. When you book a free, no-obligation consultation, we'll come to your house for a brief visit. Often, we make a fair cash offer on the spot. If you accept our offer, we can close quickly, sometimes in as little as three weeks. How's that for selling your house fast?
We buy houses "as is," so there's no need to prepare your house in any way to show it to us. We don't need you to repair, renovate, or even clean, saving you time and money. We don't charge commissions or hidden fees, and we pay typical closing costs. Contact We Buy Ugly Houses today for your free cash offer!