Can you sell your house in Houston during a housing market downturn?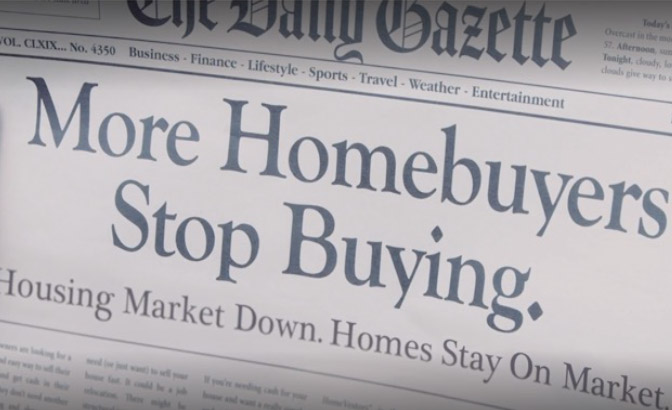 "The slump in Houston's housing market shows no sign of abating. Single-family sales fell 29.9 percent in January '23 compared to January '22. This was the weakest January since '19, a month in which the region had 200,000 fewer jobs and 350,000 fewer residents," according to the Greater Houston Partnership, the largest Chamber of Commerce in Houston.
Zillow's forecast for Houston this year predicts that house prices will decline by 1.6%. Inflation is partially to blame. Money is spread thinner, and daily expenses are pricier. People generally don't want to buy when money is so tight.
High mortgage rates are also partially to blame. According to Bankrate's survey of the nation's large lenders, "The benchmark fixed rate on 30-year mortgages now sits at 6.3 percent." By comparison, a 30-year mortgage in February 2022 was 4.526%. For a more concrete idea of what that means, consider the following: At 6.3% interest, $40,000 down on a $200,000 house will require a principal and interest payment of $990.36 per month, equaling a total of $356,528.33 at the end of 30 years. In the same scenario with 4.526% interest rate, payments would be $813.17 a month for a total of $292,741.25 after 30 years. With the higher current interest rate, that means at the end of 30 years, you will be paying $63,787.08 more for your house than at the lower rate a year ago.
People are also hesitant to buy because they're worried about a possible recession this year. "In a recent poll of economists, the World Economic Forum found that nearly two-thirds of the respondents believe there will be a recession in 2023," according to NPR.  
Is now a good time to sell your house in Houston?
If you sell your house in Houston the traditional way through a real estate agent, it likely will stay on the market significantly longer than it would have last year. Your house could be listed for months. And with the economy in flux, there's no telling what may happen a few months down the road.
Furthermore, to sell your house in Houston via a real estate agent, you will have to get it ready for the market. This means making various repairs and upgrades to your property. Getting your house ready for the market costs more than ever, since inflation has driven up the costs of both materials and labor.
How to sell fast and avoid expensive house repairs
It's possible to sell your house in Houston fast, without having to spend even a nickel on repairs and updates, if you sell your house to one of the reputable companies that buy houses for cash. America's #1 cash home buyer is We Buy Ugly Houses
®
.
We Buy Ugly Houses can be trusted. We pride ourselves on being transparent, upfront, and ethical. Over 140,000 homeowners have sold their houses to us since we started business in 1996, and we have a 95%
*
approval rating from our satisfied sellers.
Of the companies that buy houses for cash, you can count on
We Buy Ugly Houses in Houston
to make the process easy and fast. Some of our Texas sellers have this to say about us:
"Process was easy and quick. I was kept informed at all points throughout the process." Christopher M. (Humble, Texas)
"It was a fair offer, and everyone showed my family so much support and [made] the process of selling the house easier." Shemekca G. (Dallas, Texas)
Have questions? We have your answers.
Just call us to set up a free, no-obligation consultation with one of our local property specialists. We will meet at your house at a time that is convenient for you, answer all your questions, and take a tour of your property. We can often give you a fair cash offer on your house the very same day.
We buy houses "as is," so there's no need for you to make any repairs or even clean up the house for the consultation.
If you accept our offer, we frequently close in as little as 3 weeks. Give us a call at
866-200-6475
or fill out our online form.