How to avoid housing scams in Dallas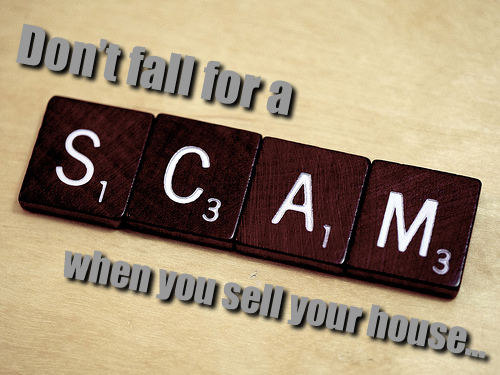 Housing scams happen across the country, including in Dallas.
There are a wide variety of real estate scams and
housing scams
in Dallas that can arise in different stages of the home-selling process. Some real estate fraud, like fake deeds, where scammers take control of properties they don't actually own, can happen to people who aren't even in the process of selling a house in Dallas. It's important to understand what types of housing scams are out there so you can learn what to look out for and how to avoid them.
Types of scams
Unsolicited offers.
If someone makes an offer on your Dallas house and it's not even listed for sale, you should be cautious. Now that's not to say it couldn't be legitimate, but it's important to research and find out who is making the offer on your house. Many times, scammers in Dallas make an offer over market value and get the homeowner excited about the sale and potential profit, and then ask for money for administrative fees or to pay taxes before the sale has gone through. Then they take the homeowner's money and disappear.
Foreclosure relief scams.
Some people claim they can help you stop the process of foreclosure by handling the paperwork for government programs for a fee. Unfortunately, they tend to make foreclosure happen even sooner since they take the money and vanish, leaving the homeowner even worse off, and tell the homeowner not to speak to their lender directly.
Cashier's check scams.
In this scam, the seller has received an offer on their house in Dallas and come to an agreement with the buyer, who then sends a cashier's check that is way over the agreed purchase amount. The scammer then asks the homeowner to wire back the difference, saying that it was a clerical error. After the homeowner sends the difference to the account provided, they realize the cashier's check is a fake.
Deed scams.
These scams happen when fake deed transfers are registered with the authorities, and it's legally documented that the house has changed hands without the consent of the owner. Unfortunately, deed fraud is easy to do and hard to undo for the homeowner who has lost rightful ownership of their property.
This kind of property fraud is so prevalent in Dallas that the Dallas County Clerk's Office set up a property fraud alert; you can input the information about any property you own, and you'll receive notifications if any paperwork is filed with the county clerk on that property.
For people who have already been a victim of deed fraud, there are resources available to help them. John F. Warren, the county clerk, stated, "It should not be up to the individual only." That's why Warren created a set of instructions and forms for people who need to reclaim their property. It can be a complicated process, and the guidance created by Warren can help people fill out the necessary paperwork without a lot of legal bills. The online forms can be found on the
Dallas County Clerk's site
.
How to protect yourself from housing scams
If you're selling your house in Dallas, it can be a stressful time, and it's normal to worry about possible scams. Luckily, there are steps you can take to prevent getting caught up in a scam. The most important thing is to do your due diligence. Don't get caught up in high offers on your Dallas house or swept away with promises to stop your foreclosure. It's easy to get ahead of yourself when money and help are being offered, but it's essential to thoroughly research anyone you're planning on doing business with.
Tips to avoid scams
Look into the person you're working with, including their standing with the Better Business Bureau, their website, online reviews, and their Google Business Profile.
Never provide your bank information over email or online.
Fees shouldn't be paid up front even if the amount seems reasonable.
Don't trust a transaction that's done entirely online. You should meet someone in person before closing.
You should always verify that the funds are with the title agent or escrow before signing over a deed.
Be wary of unprofessional behavior from the buyer, such as pressuring you to rush the deal or sign paperwork you haven't had time to review.
Signs that say "we buy houses" on the side of the road may or may not be trustworthy. Research who you're talking to if you call a number from one of those signs. Also, be aware that We Buy Ugly Houses® doesn't use those signs for our advertising.
Sell to a reputable cash home buyer.
You can steer clear of real estate scams by working with We Buy Ugly Houses. We have been in business for over 25 years and have purchased over 140,000 houses in that time. We don't use pressure tactics, and we strive to provide a personalized experience where we walk you through each step of the selling process, offering support and guidance along the way. At your convenience, we can come see your property in person to provide a free, no-obligation consultation. Often, we're able to make a fair cash offer on the same day as our visit.
We have a 95%
*
customer satisfaction rating, and we invite you to read our
outstanding customer reviews
. We don't charge commissions or hidden fees. We also pay typical closing costs. When you work with We Buy Ugly Houses, you're the one who gets paid. Contact our local Dallas property specialists today!