Prepare for hurricane damage in Houston.
Hurricane season is coming.
Hurricanes are some of the most devastating storms a homeowner can face. Hurricane-force winds can reach more than 170 mph.

Hurricane Harvey, the strongest storm to hit Texas since 1961, had wind speeds of 130 mph. The storm gave homeowners a surprise lesson in how much wind damage costs in Houston can pile up after a hurricane.

Winds that powerful can topple power lines, move parked cars, knock over trees, and even blow roofs off houses. Hurricanes also yield high amounts of rain that cause devastating flooding.

Flooding from storm surges is often the most damaging part of a hurricane. Hurricane Harvey's highest rainfall totaled more than 48 inches, according to Climate.gov.

Houston and surrounding communities like Beaumont and Port Arthur flooded quickly. In fact, the hurricane's downpour raised river and creek levels to record highs.

The Harris County Flood Control District estimated one trillion gallons of water fell in the county over four days and that 70% of the county flooded with at least one and a half feet of water.

First responders had to rescue thousands of people from their homes.

These levels of destructive force are hard to avoid. You can't completely protect your house from hurricane damage in coastal cities like Houston, but you can prevent some of the damage these monster storms dish out.

We will walk you through a few tips you can use to minimize wind and flood damage in Houston.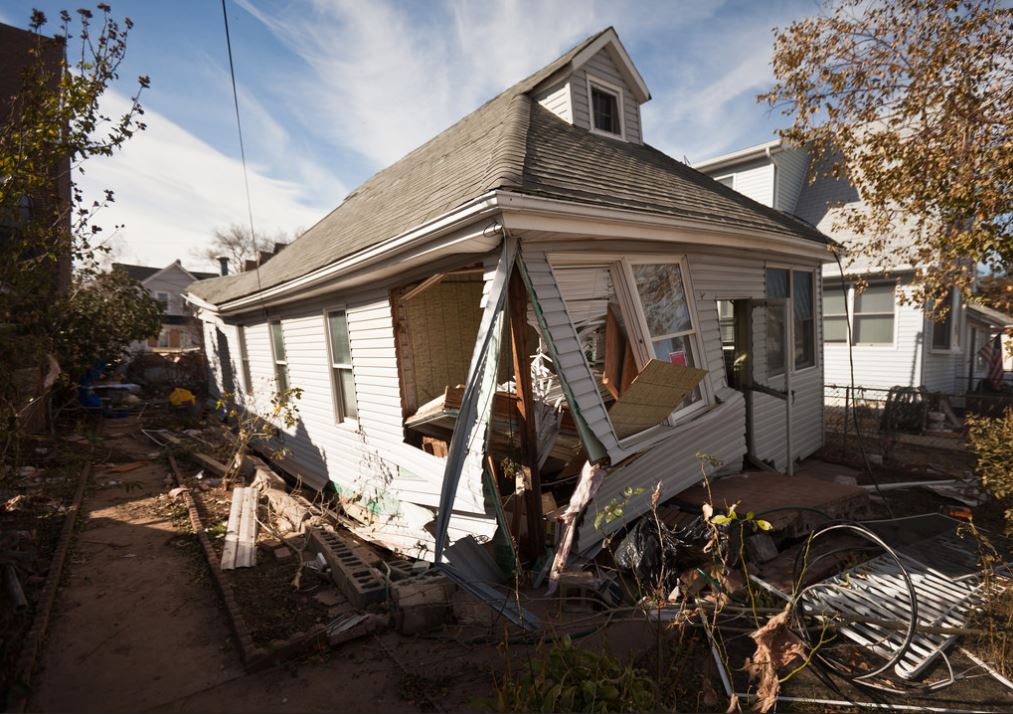 Preparation can save money.
Hurricane season runs from June 1st through November 30th. It's best to get ready for the storms before they arrive. The first thing you should focus on is protecting yourself.

Your house is important for sure, but you can replace or repair it. Before worrying about protecting your windows and walls, make sure you know how to get the latest news on the next hurricane.

You'll also need to know how to choose whether to evacuate and where you will go if you evacuate. Now, as far as your house, there are a few things the City of Houston's Office of Emergency Management recommends you do to strengthen it ahead of the storm:
Trim the trees surrounding your house so heavy branches won't break off and fall on top of it.
Make sure your house is up to hurricane building code requirements, especially if you plan to ride out the storm at home.
Board up your doors and windows with the proper plywood, steel, or aluminum panels. The garage door is the most vulnerable part of a home, so make sure it can withstand high winds. Hurricane wind damage costs are nothing to sneeze at, especially in a city like Houston, which sits right next to the Gulf of Mexico.
Park your car inside a garage or other shelter to protect it from the storm.
Secure loose outdoor items like lawn furniture indoors so they won't blow into your house and cause more damage.
Consider writing your plan and referencing your notes regularly before the season begins. It's easier to remember what you need to do if you have each step written down in one place.

Here's one more tip with less to do with your house: Make sure you stock up on emergency supplies. It'll be hard to find them when a hurricane is barreling down on you, and you might not have time to look.
Consider hurricane insurance.
Figure out how much risk hurricanes pose to your house. The risks could be between minimal and grave, depending on where you live.

The federal government has hurricane tracking tools you can use to review the paths previous hurricanes have taken, and there are hurricane experts in Houston you can consult. Check with the Houston Office of Emergency Management for advice.

Once you know your risk, it might be time to check in with your insurance agent. First, you'll need to determine if your homeowner's insurance can cover repairs or replace your home if it suffers severe hurricane damage in Houston.

Standard home insurance doesn't usually cover flooding. Remember, it's estimated Hurricane Harvey caused flooding in about 70% of Harris County. So it's safe to assume severe flood damage will likely come with a hurricane in Houston.

Flood insurance usually takes 30 days to take effect, so if you need an upgrade, consider getting it at least a month before hurricane season starts.
Your other hurricane option
If your house has flood or wind damage after a hurricane lands in Houston, you don't have to spend the money to repair it. Instead of replacing the floors, walls, and roof, consider selling your house "as is."

We Buy Ugly Houses® Houston buys houses in nearly any condition. We're not afraid to look at your house even if it has devastating storm damage. We can make a fair cash offer that you can trust.

Keep us in mind and if you want to sell your house, call 866-200-6475 to get a cash offer or leave us your phone number.

Call We Buy Ugly Houses at 866-200-6475