Worst Real Estate Market in the U.S.
You see stories on the best real estate markets in the country by the hundreds.
Maybe even the thousands.
When you do a Google search for the worst markets in the country, crickets.
There are a few stories that predicted 2015, and there are some that look at the worst markets for property taxes. There's even a story that lists the worst markets for toilets.
Yet nothing on the worst housing markets.
So where is the worst housing market in the U.S.?
Bankrate.com and this story from early in the year lists the top five. While the story is from early in the year, it's safe to bet not much has changed in terms of these numbers in just a few months.
The 5 Worst (at least in this story based on Q1 median home prices):
Cumberland, Maryland/West Virginia – $71,600, down 12 percent
Pittsfield, Massachusetts – $178,300, down 11.7 percent
Elmira, New York – $102,300, down 11.4 percent
Farmington, New Mexico, $165,400, down 8.9 percent
Binghamton, New York, $96,200, down 8.3 percent
As a safe bet, if you want to find the worst markets in the country, head to Texas, California, or South Florida.
In some cases, what is the worst market depends on the site where you find it.
And there are different factors to consider as well.
We mentioned the housing markets, but what about rent?
In 2014, BiggerPockets released the worst rental markets in the country for 2014.
The list was based on numbers from RealtyTrac.
As the story notes, "To determine the best and worst markets, RealTrac divided 12 month rental income by the median sales price for residential homes in that county. The results show the Annual Gross Yield, which can give an indication to real estate investors which markets will fare better for cash flow."
This study is more of broad strokes, as BiggerPockets said. So if you want to know where to invest, this isn't the study for you.
If you want to know the places to avoid, if you rent, then this is the starting point.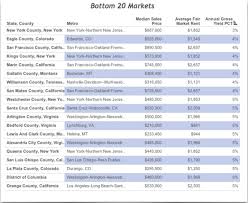 As was the case with the housing market, it's safe to presume not much has changed since the study was released. In fact, if it has changed, it's for the worse.
San Francisco and Denver continue to remain among the toughest places in the country to rent or even find a rental.
As for the housing market, the list of five is a good starting point, and throw in parts of Texas, California and Florida as well.
It's more proof people don't like to give or report on bad news. With real estate, it's kind of bizarre since everyone predicts the latest "bubble will soon crash."