How to Stop Your Dog From Destroying Your Home
Dogs make the world right.
They make you smile.
They're always there when you need them.
In return, all they need from you is love.
When you don't give it in the right ways, that's when all hell breaks loose. Dogs get destructive and can damage your home. How much damage they do is related to the lack of attention they get.
For some dogs, nothing you do can satisfy their need for play and activity.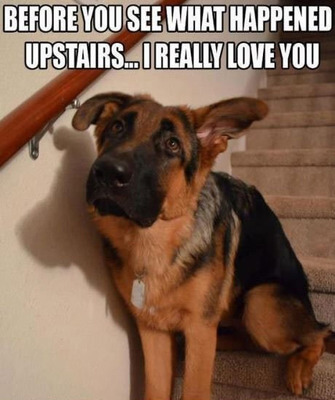 Chances are your house has a few battle scars from potty mishaps and scratch marks. That's likely especially true for your hardwood floors.
A dog's tendency to dig and scratch can do the most damage to floors. Vinyl and laminate are much more pet-friendly and less likely to get scratched than hardwood is.
Carpet is also vulnerable to Fido's claws. Repeated attempts to dig and scratch will eventually tear it up and destroy it.
Unless you love to waste money, the best option is to go with vinyl or laminate. Advancements in the two products make it tough to tell the difference between them and wood or stone.
Unlike carpet, vinyl and laminate can also withstand potty mishaps. Just grab a paper towel and disinfectant, and it's gone in seconds. But you might need a steam cleaner to remove the damage done to carpet, and that requires time and money.
Of course, pets can damage furniture, too. But that won't have a negative impact on the resale of your home. Floor damage will.
Dogs can obliterate the walls of your home, also. They can dig, chew and generally go crazy on your drywall. Nobody wants to come home to a big hole in a wall.
Doors aren't immune to damage either. Dogs have been known to treat them just like they would walls, though they may have a harder time causing holes.
We haven't even gotten to the damage cats can do. Those little buggers can be more destructive than dogs, but more so when it comes to furniture.
To curb the damage dogs do to your home, the best course of action is to play with them and keep them active. Then they'll be too pooped to cause damage.
That's what the Dog Whisperer would tell you.
If you give your dog love in the right ways, they will return it to your home.