'Property Brothers' Started With an Infomercial
Posted in
Media
on November 11, 2016
There is nothing like the magic of a great duo.
Abbott and Costello.
Simon and Garfunkel.
The Bushwhackers.
Batman and Robin.
And the most underrated duo ever: Martin and Lewis. The comedy magic of Dean Martin and Jerry Lewis revolutionized the art form.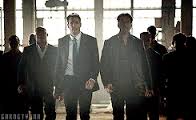 There is a duo who has taken the country, and the world, by storm over the last few years. This duo happens to have a show on HGTV called "Property Brothers." Of course, we are talking about twin brothers Drew and Jonathan Scott. The show first aired in 2011, and these brothers are like a drug people cannot get enough of.
How the Scott brothers realized their love for real estate is, as Bob Ross would say, "A happy accident." And it's exploded into what it is today. What is it today? One of the biggest hits on all of TV.
As the site for the show says, "The Property Brothers are determined to help couples find, buy and transform extreme fixer-uppers into the ultimate dream home, and since it's hard to see beyond a dated property's shortcomings, they're using state-of-the-art CGI to reveal their vision of the future. Can they convince these hesitant home buyers to take a radical risk? And can they complete their ambitious project on time and on budget?"
On the show, Drew is shown as the seasoned real estate agent. As the site says, Drew finds the down-and-out fixer-uppers with the dream potential.
Jonathan is a licensed contractor with more than 15 years' experience.
In reality, both are licensed real estate agents. Makes sense they have managed real estate holdings for nearly 15 years. In 2004, they founded Scott Real Estate, a company that oversees the sales and construction of residential and commercial projects. As the Wikipedia page says, they have offices in Vancouver, Calgary, and Las Vegas. They have offices in two Canadian cities since they're from Canada.
The premise for the show we see today actually started when the two brothers were teenagers when, Forbes reported, they saw an infomercial.
"Drew and I were coming out of high school and we didn't want to be starving actors so we saw this infomercial on how to make millions of dollars with no money down by Carlton Sheets," Jonathan told Forbes.
Drew and Jonathan bought their first home when they were 18. After the renovations, they sold it for a $50,000-profit. But that wasn't enough to get them into real estate – not right away. It did teach them two important lessons they would use in the future – and still do.
They first tried their hand at acting. As the Wikipedia page says, both appeared on the Canadian TV show "Breaker High." Drew also had a role on "Smallville" and Jonathan was on the "X-Files." An interesting note about Jonathan is he's an award-winning illusionist. Both have even tried their hand at improvisational comedy. Those who watch the show get that reference.
As the Wikipedia page says, they decided to go back to school for construction and design. As their business continued to grow, they were approached to do the TV show. And the rest is history.
Today, "Property Brothers" airs all over the world. In Canada, it airs on the W Network. It's called "My Dream Home" in Australia on Lifestyle Home. In New Zealand on ChoiceTV. It also airs in Brazil and Spain.
So it's not just the U.S. and Canada who can't get enough of the 6-foot-5 twin brothers.
And there's no hitting the breaks either.
They have taken the lessons they learned from that first property they bought as teenagers to now headline three shows on HGTV. You thought we were kidding when we said they were akin to a drug people can't get enough of.  There's "Property Brothers," "Buying & Selling" and "Brother vs. Brother."
In fact, their popularity will soon reach the big screen with a full-length feature film. There's no word on a release date.
"We feel that you should sleep when you are dead," Jonathan told Forbes.
If you needed any more proof people love a great duo, you got it with the Scott brothers.
"Property Brothers," one of the biggest hits on TV. Two guys you want to do business with because you know they care and are great guys.
At this rate, they could very well match Martin and Lewis. Heck, they may top them.
Isn't it fitting they also do comedy?