Locations: Fort Worth
Selling A House In Fort Worth - America's #1 Home Buyer
Selling A House

In

Fort Worth
FT Worth Trusted Homebuyers - Sell My House For Cash
Sell My Ft. Worth Home Fast
Sell My House Fast For Cash in Ft. Worth
We know what you're thinking, "can I sell my home in Fort Worth?". Most people know they need to sell a house fast for cash but don't know where to begin. There are many companies offering you a lot of money for your home. In most of those cases, their initial offer is very different than the purchase price. We don't treat you that way. If you want to know how to sell your house in Fort Worth, keep reading.
Call We Buy Ugly Houses® at 866-200-6475
Selling Your Home-Ft. Worth
How can I sell my house in Fort Worth, Texas?
We Buy Ugly Houses® has been in the business of buying houses since 1996 and are the No. 1 buyer of houses across the country. Don't search for "selling house Fort Worth" or "sell my home Fort Worth" and look at a bunch of companies you know nothing about. We are the "We Buy Ugly Houses" team. You've seen our billboards for a long time. Let us help you today.
We Are Ft. Worth Home Investors
"I want to sell my home in Fort Worth."
There's a lot to learn how to sell a house in Fort Worth. If you want to sell your house by owner in Fort Worth, you worry about doing repairs and renovations. Bringing a house up to date can be time-consuming and costly. However, there are so many houses available on the market today that most buyers will pass up on one that needs work. We Buy Ugly Houses can be the answer to your problems. We buy houses as-is. We buy quickly and for cash. Individuals who are selling a house to us don't have to do anything except pocket the money we give them!
Many people selling a house choose to do so with the "We Buy Ugly Houses" team.  Our franchisees across the nation have used our proven system to buy more homes than any other system ever developed. Are you selling a house in Fort Worth? Our local Fort Worth group is great to work with because we can move quickly and pay cash for homes we buy.  Plus we can buy in Granbury, Arlington, Denton, Cleburne, or anywhere in Texas fast!
While these reasons are enough to motivate most sellers, there are more for selling your house to us:
Call We Buy Ugly Houses® at 866-200-6475
Reasons to Sell A Ft. Worth House Fast for Cash:
1. No Need

To

Make Costly Repairs
When you are selling a house through traditional methods, you are the one responsible for making repairs that the bank requires for a mortgage. We can buy your house now, "as is," no roof to replace, no plumbing to fix, you don't even have to clean it – nothing.
2. Avoid Foreclosure – Sell My House Fast Fort Worth
Many Americans are in the unfortunate position of being unable to pay their mortgage. Even when they place their house on the market they may still go into foreclosure waiting for a buyer. This is where we can help. We can offer a quick closing on your house, pay cash, and help you avoid foreclosure and the credit issues that follow.
3. We Pay All Normal Closing Costs.
There are costly closing costs involved with selling a house through traditional methods. Sell your house fast to our local office, and we pay all typical closing costs. That leaves more money for you.
4. We Are Trusted Home Investors
We've bought over 100,000 and have been the preeminent homebuyer in Ft. Worth and the USA since 1996. Unlike other companies that buy houses in Ft. Worth, we make selling your home easy. We have the experience to back it up. We are real estate investors in Fort Worth.
Our 3-Step Process to Sell Your Home for Cash Fort Worth
How to sell a house in Fort Worth 
We built our home-selling process with the seller in mind. If you want to sell your home fast in Fort Worth, then it's as easy as 1-2-3. Three quick and easy steps. That's all our process requires.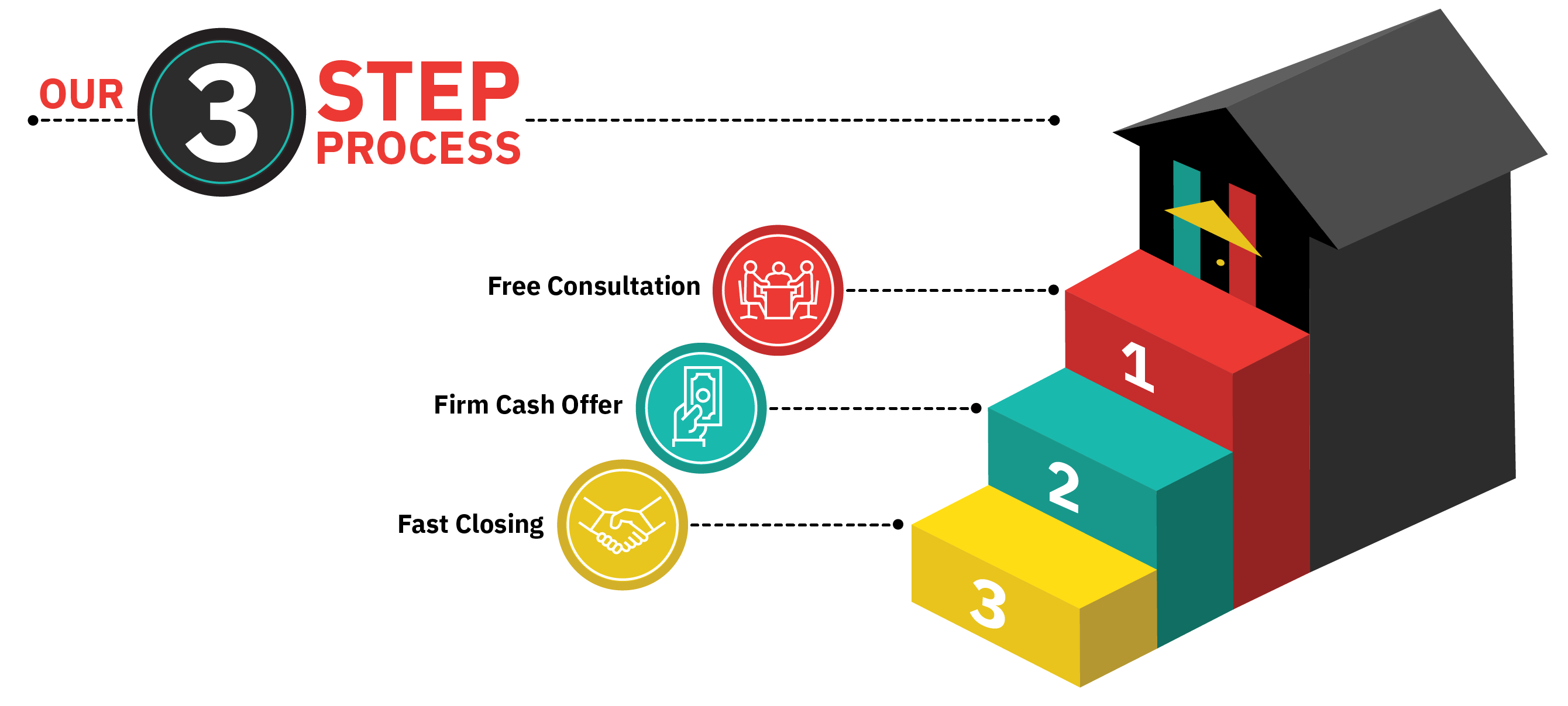 1. Free Consultation – Trusted Homebuyers
Fort Worth, Texas is a city with a rich history of diversity. Local neighborhoods dot the city's landscape, each with its own rich past and emerging future. No one knows the Fort Worth neighborhoods better than our local property specialists. We know what makes each Fort Worth neighborhood unique, and we want to know what makes your house unique, too. Because of that, our property specialists can visit each property and provide a free, no-obligation consultation. We take the time to answer your questions so that you understand our process. We are house investors in Fort Worth.
2. Fair Cash Offer – We Are Cash Homebuyers
When you sell your house for cash to We Buy Ugly Houses, you can be confident that our offers will be fair and fast. That's not the case with many companies that buy houses, who will make an attractive offer first, then add surprise fees at the last minute. Our fair cash offer is based on your property, just as it is, in your Fort Worth neighborhood. And, your property specialist is by your side every step of the way. We have the experience and know-how to close on your house as promised.
3. Fast Closing: Trusted Cash Homebuyers Ft. Worth
Experience matters when selling your home for cash in Fort Worth.
When you need or want to sell a house fast, things can get stressful, emotional, and sometimes frustrating.
"Has the Realtor handled a situation like mine?"

"Will I get the price he says I'll get?"

"How long will I wait for this house to actually sell?"
Sell my house fast Fort Worth
At We Buy Ugly Houses, we know the feeling. Since 1996, we've been helping homeowners by purchasing their houses "as is" for cash. Having bought over 100,000 houses, we've seen it all and know how to handle challenging situations. Every month, hundreds of sellers trust us to get them cash in as little as 3 weeks. Go from a cash offer on your house in Fort Worth to cash in your hand.
How to sell a house in Fort Worth benefits
There are many benefits of selling a house to the "We Buy Ugly Houses" team. We're often told the most important benefit, though, is the relief you feel when the closing is complete. We lift the burden of that Fort Worth home off your shoulders.
Read our Fort Worth area reviews
"Keith was a true professional He never lied told us exactly what he was going to do and stuck to his word." – George L. (Dallas, Texas) (01/09/2019)
"The agent who came to my home was professional and beyond polite. The process was quick and handled extremely efficiently." – Michael F. (Arlington, Texas) (01/04/2019)
"The whole process was so smooth and a life saver! They took care of us through every step!" – Teresa S. (Aubrey, Texas) (01/16/2019)
"Everyone was easy to work with and efficient. Ending up getting a price we thought was fair." – Debbie S. (Granbury, Texas) (12/11/2018)
Get Cash For Your House In Fort Worth, Texas
If you are interested in selling houses in Fort Worth or want to know more about how it works, contact us today!
Sell a House in Fort Worth
Call We Buy Ugly Houses® at
866-200-6475
Call We Buy Ugly Houses® at 866-200-6475
The easiest way to sell your house in Fort Worth, TX
There's no easier way to sell your house in Cowtown.
At We Buy Ugly Houses®, we give fair cash offers fast. We know that trust is important when selling your house fast for cash.
That's why we don't charge commissions and we pay typical closing costs. Dozens of homeowners in Funky Town have sold their houses to us.
Will you be next?