We are local cash home buyers ready to help you.
We are local cash home buyers ready to help you.
We're dedicated to helping you navigate today's challenges.
We Buy Ugly Houses® understands that owning a house can be a heavy burden on you. Whether you inherited it, need to downsize, or need money as quickly as possible.
Especially during difficult times, We Buy Ugly Houses is the trusted solution to sell your house "as is" fast for cash. Since we started in 1996, we've seen many difficult circumstances, both personal to our sellers and on a national scale, and we have continued to adjust to keep helping people sell their houses quickly and with ease.
Here's how we can help you sell your house with our simple process.
First, we'll start with a quick in-person visit to your house, where we may make you an all-cash offer on the spot. If you accept our offer, we can close quickly, sometimes in as little as three weeks, or later, if it's better for you.
Your health is our top priority.
Every house is different and so are the health and safety concerns that people may have. We understand that people have different preferences when it comes to their health, and we accommodate them all.
If you or a family member that lives with you are more susceptible to germs or has health issues, we can bring gloves, masks, and booties and take any necessary precautions. We're happy to accommodate any health and safety requirements you may have. Our goal is to make sure you feel comfortable with our visit.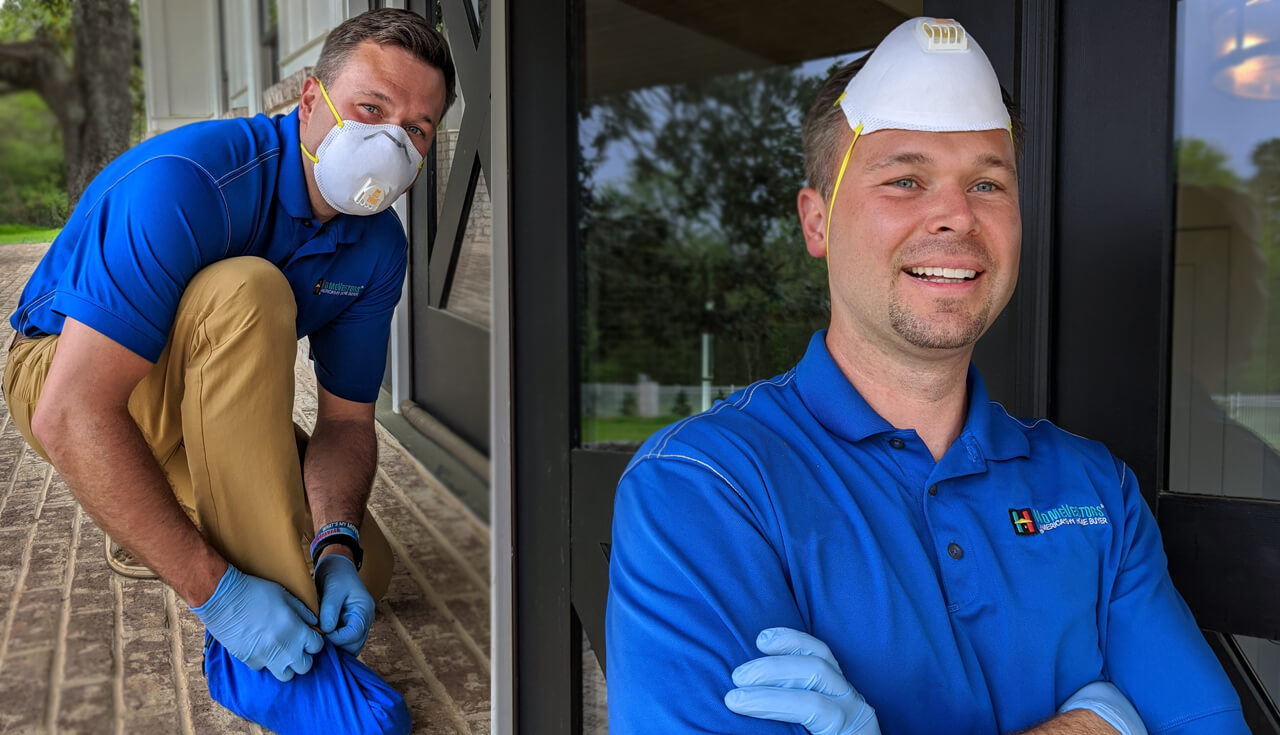 Our property specialists, like Atlanta franchisee, Trent McMurtrey, give homeowners safety and peace of mind with his protective gear for house visits.
Our experience shows we know how to handle changing circumstances.
We're the cash home buyer that's been in the home-buying business for over 25 years. We know that things change from pandemics to the ever-fluctuating housing market to the economy. We've navigated through every type of market and difficult selling situation, so you can feel comfortable working with us during any event. We work with you to find the best solution to your particular situation and walk you through every step of the process.
With We Buy Ugly Houses®, you won't need to bother with repairs, cleaning, or even showings. There are no commissions, we pay typical closing costs and can close quickly, sometimes in as fast as three weeks or later if you prefer. We make it that easy.
Not all cash home buyers are the same.
We know there are many cash home buyers, and you may have already heard from some of them. Many of them will blindside you with surprise fees at the last minute or require you to make costly home repairs. We buy houses "as is," we don't charge commissions or hidden fees, and pay typical closing costs, saving you money. Plus, we'll be with you through each step of the sale.
When times are tough, experience really matters.
For over 25 years, more than 140,000 homeowners have made We Buy Ugly Houses® America's #1 home buyer. They've trusted us to buy their houses, which brings them the quick sale and the cash they need. And you can, too. Get fast cash for your house today!
Better than we could have hoped for! Sal and the team [We Buy Ugly Houses franchisee] were all understanding to our needs, and made the process easier and less stressful.

Benjamin S. (Blackstone, Virginia) • 1/21/2022