We are your local home buyers ready to help you.
Today's challenges demand new ways to work.
Especially during difficult times, We Buy Ugly Houses® is the trusted solution to sell your house "as-is" for cash, quickly. Since we started in 1996, we've seen many difficult circumstances, both personal and national, and we have learned to adjust to continue helping people by buying their problem houses.
Here's how we can help you sell your house during these extraordinary times. Where allowed, we'll start with a visit to your house in-person, practicing "social distancing," where we can make you an all-cash offer on the spot. Now, we are also offering the option of "exterior only" initial visits with video consultations and other measures to ensure your safety and peace of mind. We can adjust to whatever makes you most comfortable. Selling a house for cash is still possible!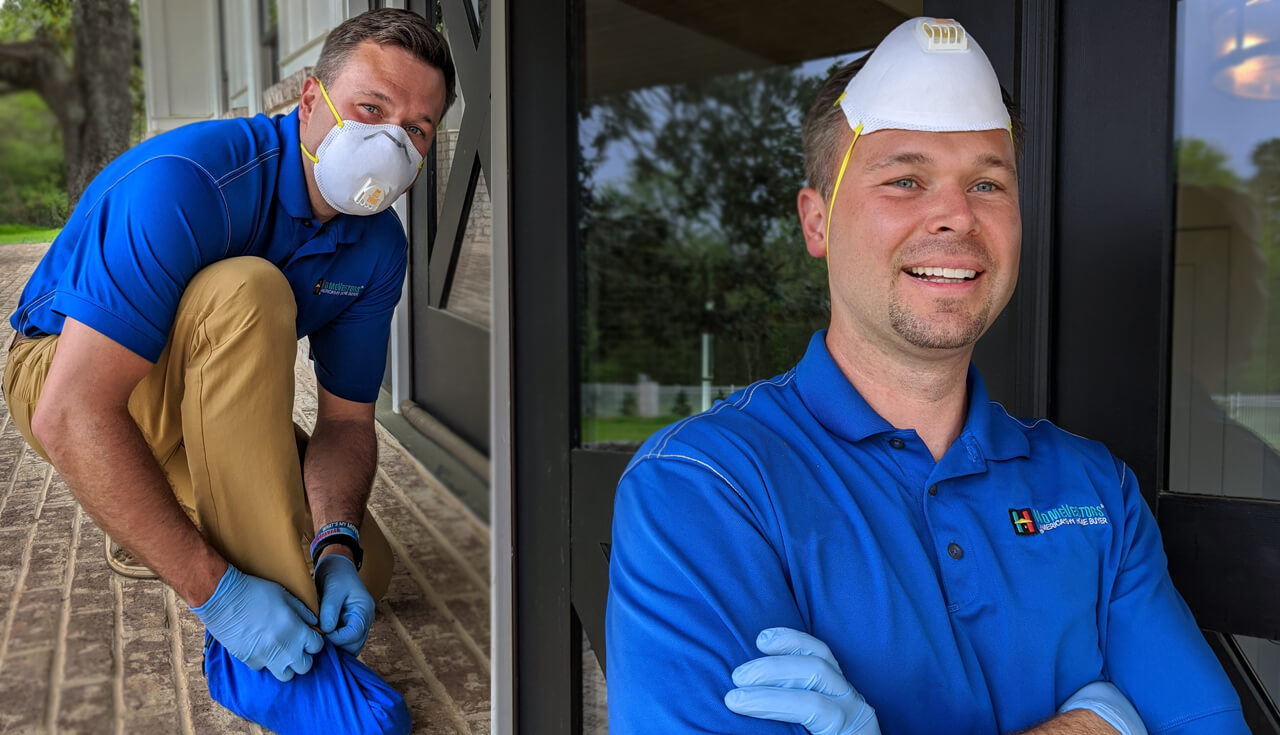 Our property specialists, like Atlanta franchisee, Trent McMurtrey, give homeowners safety and peace of mind with his protective gear for house visits.
These days, selling a house can be more complicated than ever.
Today, many homeowners are justifiably concerned with the in-person interactions that come with selling their house the traditional way…showings, inspections, repair appointments, etc. It can be difficult to navigate.
What a relief to avoid the stress, delays and social-distancing concerns by instead selling your home to a cash home buyer. With We Buy Ugly Houses,® you won't need to bother with repairs, cleaning or even showings. There are no commissions, we pay typical closing costs and can close as fast as three weeks or later if you prefer. We make it that easy. Get fast cash for your house today!
But many other buyers have had difficulty obtaining financing. They have been walking away from the closing table or even exiting the business entirely, leaving their home sellers in the lurch.
Our experience shows we know how to work through a crisis.
As America's #1 Home Buyer since 1996, we've been there for homeowners through times of crisis, both personal and national. Our experience in navigating these challenges can be especially comforting during such a difficult time.
As we've done with over 125,000 other homeowners, we will execute our contract with you exactly as the terms indicate – the cash amount, the closing date, etc. Please give us a call or complete our online form to have your local property specialist contact you immediately.
More than 25 years of promises made, promises kept.
We know there are many cash home buyers, and you may have already heard from some. Many of them will lower their offers or charge surprise fees at the last minute, or require you to make costly home repairs. But when We Buy Ugly Houses® makes a fair cash offer, that's one of the promises we make and keep. Another is that we'll be with you personally each step of the sale.
When times are tough, experience really matters.
For over 25 years, more than 125,000 homeowners have made We Buy Ugly Houses® America's #1 Home Buyer. They've trusted us to buy their houses as promised, giving them the quick sale and cash they need. And you can, too.
My sisters and I are all out of state and Mark made the whole process of selling the home we grew up in so stress-free! From the time my mother signed the contract through the closing, there were no snags and we all actually enjoyed the closing. Mark instilled confidence in the whole process. I would highly recommend them to anyone!
--Pam A.