Short On Money? You Can Get Fast Cash For Your House.
Short On Money? You Can Get Fast Cash For Your House.
Sell My Home For Cash
Layoff. Job loss. Mounting bills. Unexpected illness. Pre-foreclosure. There are a lot of things that can make you consider selling your home due to financial hardship. If you find yourself in that situation, We Buy Ugly Houses® can make you a fast cash offer on your house that can give you the money you need. Cash to pay bills, get out of debt, and move on.
Your local, independently-owned and operated We Buy Ugly Houses® franchisee, knows that when you need to sell your home fast, it can be stressful — especially if you're in a financial bind. Waiting for approval from the bank, making repairs, and spending hours cleaning can be difficult and time-consuming. But, selling your house to us can be easy and stress-free. Why is that? It's because when we can make a cash offer on your house, and if you need to sell your house fast, remember, we buy homes as-is.
It's fast. It's easy. And it works.
What Selling Your House "As Is" Means
I Want To Sell My Home Today
Selling your home with a traditional sale requires you to get an inspection, and pay for repairs, painting, and cleaning. It's expensive and time-consuming. Then it can take months or even years – if it sells at all. If you are selling a house for cash, remember we do things in a different way. When we buy houses, we can pay cash for your house "as is." That means:
No repairs. With us, sellers don't have to spend time and money fixing up their house. We can buy a house even if it could use a few repairs.
No cleaning. Same for cleaning. It's okay if there's mold in the shower or cobwebs in the corner. We don't mind.
No paying typical closing costs. We can take care of normal closing costs so the seller won't have to worry about that aspect.
No open houses. Open houses can be stressful, as dozens of potential buyers wander through the home. With us, you'll just meet with one person, a friendly local franchisee who is ready to make an offer.
No waiting on bankers. It can take a long time for a bank to grant approval, and we understand that waiting can be hard. That's why we use a process that is quick and efficient. In fact, our sellers can even close in as little as three weeks.
It's easy to get a fast cash offer for your house with We Buy Ugly Houses®. By following a simple, three-step process that empowers the seller.
Is Foreclosure Looming? Sell Your House Fast.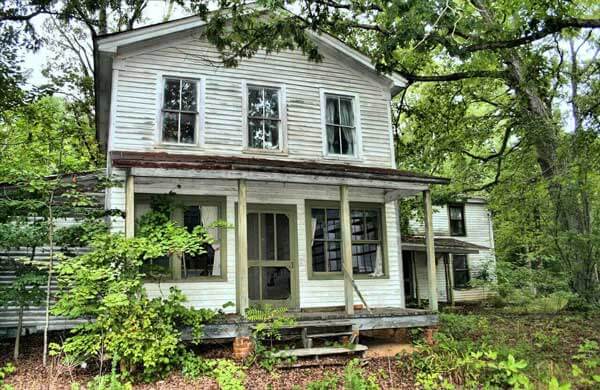 "A bankruptcy proceeding is forcing me to sell." "I wish I had never bought this house." We've heard it all. We understand your "ugly" situation. If foreclosure is even a remote possibility, you should consider selling your house fast for cash. The biggest mistake that people make when faced with a delinquent mortgage is to wait, hoping things will turn around. But if you wait too long, and the mortgage company files papers, selling is no longer an option. You can lose your house — plus whatever equity you have in it.
Selling a house quickly may seem hard, but our system is designed to make it fast and easy for you. It's designed to remove the stress from the house selling process. It's also designed to help you get cash and the peace of mind that comes with getting out of financial distress and possible foreclosure. Need to sell your house fast? It's pretty simple:
Need To Sell A House Fast?
Schedule a free house visit from a local professional cash buyer. Contact us and set up a house visit with an independently owned and operated We Buy Ugly Houses® franchisee. They'll look over your house and talk with you, taking you through the process and answering any questions. This is an open and honest conversation.
You can get a fast cash offer for your house. We can make a cash offer—on the spot.
Move forward. We can pay cash for houses, so you can walk away with cash in your pocket and peace of mind.
We want you to feel assured at every part of the process. So please check out our Frequently Asked Questions, and feel free to contact us to ask more. That way, you can feel secure in whatever decision you make. When you need to sell your house fast for cash, contacting us can be your best choice. We understand your situation and know how to help. We can give you our personal time and attention because we truly care about helping. We're here for you.
If you need to sell a house fast, the friendly folks at We Buy Ugly Houses® are ready to buy. Check out our FAQs, connect with us online to request a free, no-obligation consultation, or give us a call at 866-200-6475. *Each franchise office is independently owned and operated. Check out the we buy ugly houses reviews.
Want To Know More? Related Links: