Sell your home for cash in Chicago.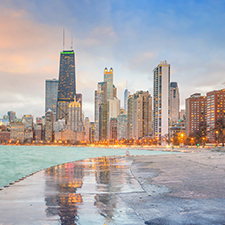 If you want to sell your Chicago house fast, you may worry about doing repairs and renovations. Bringing a house up to code is time-consuming and can be costly. Some buyers pass up on many houses available on the market today because those houses need too much work.
We Buy Ugly Houses® can be the answer to your problems. For over 20 years, we've been buying Chicago houses "as is" for cash. Homeowners who want to sell a home for cash in Chicago don't have to do anything. No repairs, no cleaning, no painting. Nothing except depositing the money once the check clears. We take care of the rest. We buy houses for cash in Chicago!
How to sell a house "as is" in Chicago.
Many homeowners selling a house choose to do so with our professional home buying team. Our local Chicago property specialists are truly great to work with. We can move quickly to help you sell your home fast for cash. We pay cash for homes we buy so there's no waiting on financing with its related issues.
We often buy homes in Chicago Near North Side, West Town, Lakeview, Pilsen, Oak Park, Elgin, Evanston, Skokie, Addison, Lincoln Park, or even Naperville.
While these reasons may be enough to motivate sellers to sell their Chicago homes for cash, there are even more for selling your house to us. We have over two decades of experience and are the preeminent Chicago cash home buyers. We pay fast cash for your house in Chicago.
Reasons to sell us your Chicago house:
Sell "as is"—no costly repairs
When you are selling a home through traditional methods, you are responsible for making repairs. To fix this possible headache, we can buy your house quickly "as is." What does this mean to you? This means no hassles, no roof to replace, no plumbing to fix, no carpets to replace—nothing. We take care of it all for you, allowing you to sell your home fast for cash.
Avoid pre-foreclosure
Many Americans are currently in the unfortunate position of being unable to pay their mortgage. Even when they place their house on the market they may still go into pre-foreclosure waiting for a buyer. This is where we can help. We can offer a quick closing, allowing you to sell your house for cash. We can help you avoid pre-foreclosure and the credit issues that follow.
We pay normal closing costs.
There are often costly closing costs involved with selling a house through traditional methods. If you want to sell your home fast to our local Chicago home buyers, we pay all of your typical closing costs. That leaves more money for you, and fewer headaches.
3-Step process—sell your home for cash.
Sell home for cash in Chicago.
We designed our home-selling process with the seller in mind. You can sell your Chicago house quickly, with no hassles. If you do want to sell your home fast, it's as easy as 1-2-3. That's our process!
Free no-obligation consultation
Chicago, Illinois is a city with a rich history of diversity. Great local neighborhoods like Wicker Park, Lakeview, Near North Side, or Logan Square dot the city's landscape, each with its own rich past and emerging future. No one knows the Chicago neighborhoods better than our local Chicago homebuyers.
We Buy Ugly Houses® knows what makes each neighborhood unique, and we want to know what makes your house unique, too. A professional Chicago home investor reviews each property in person and provides a free, no-obligation consultation. We take the time to answer all your questions so that you understand our process in full. You're in no-obligation to accept our cash offer or not. It's up to you.
Fair cash offer on homes in Chicago
If another cash home buyer makes an offer without seeing your house first, they will probably lower it later. Or, it might come with hidden fees. Unlike other companies that buy houses in Chicago, we always take the time upfront to do an in-person consultation on your house. We can make a fair cash offer that you can trust.
Our fair cash offer is based on your property "as is", in your Chicago neighborhood. Your property specialist will be by your side throughout the sales process. We are trusted real estate investors and have the experience and know-how to close on your house as promised.
A cash offer you can trust
You may be thinking, "I need to sell my home fast in Chicago", but it's all about trust and experience. Experience matters and you can trust we have that experience. We've been America's #1 cash home buyer since 1996.
When you need or want to sell your house fast, things can get stressful, emotional and sometimes frustrating. You may be asking yourself questions like:
"Has the real estate agent handled a situation like mine?"
"Will I get the price he says I'll get?"
"How long will I wait for this house to actually sell?"
"I need to sell my home fast for cash. Will there be a long delay for bank financing?"
Fast quotes and cash at closings
At We Buy Ugly Houses®, we know how you feel. Since 1996, we've been helping homeowners by purchasing their houses "as is" for cash. Having bought over 140,000 houses, we've seen it all and know how to handle difficult situations. Every month, hundreds of sellers trust us to close on their homes fast and get them cash quickly. Go from a cash offer on your house in Chicago to cash in your hand, often within 3-4 weeks.
There are many benefits of selling a house to our professional real estate investor team. We're told the most important benefit is the relief you feel when the closing is complete. We can lift a burdensome Chicago home off your back.
"The Representative was professional and thoughtful. Showed a genuine interest in the home and helping me transition in any way, also very honest and transparent about the process."
-Bradley C.
We pay cash for homes in Chicago.
We buy Chicago houses "as is". If you are interested in selling your house in Chicago or want to know more, contact us today!
We Buy Ugly Houses® Chicago
We buy houses throughout the Chicago area including Cook and DuPage counties and the surrounding communities.