Every parent has great summer plans to put the kids to work and get all that extra house work done.  The reality though is a little different as a pile of do-it-yourself home projects build up in the corner.  Parents need a game plan going into the summer, and need to think like their kids.  What your kids want for the summer is play-time, what parents want for summer is work, so the question is "How do you motivate your kids to work?"  Well we suggest rewarding your kids with some mini-golf and family fun after a day of hard work.
These folks live up to their slogan is, "We do miniature….BIG!"  One of the first things you'll is how beautiful this mini-golf course is.  You'll have 18 holes that will take you through waterfalls and animals, it almost feels like you're on an African safari.  Ellie the Elephant and Puttunia the Giraffe can be seen standing next to the golf course and if you're lucky, or manybe unlucky, you'll get your ball to land in the water and watch Ellie react.
This indoor mini-golf course is like playing golf inside a Haunted House/Video Game.  The entire course is bathed in black light, and painted in such a way that the entire course glows in the dark making for a mini-golf experience like you'll never experience again.  Plus when you're done you go into the arcade play a few games of air hockey, earn some tickets, and you can even reserve one of the backrooms for larger parties.
If love the walking through parks then you'll love Cool Crest.  Cool Crest isn't just the longest running mini-golf course in Texas, but in the world.  This mini-golf course opened their greens back in 1929.  Though the next decade saw the city of San Antonio with a dozen mini-golf courses, only Cool Crest remains because it honestly is one of the best designed.  Cool Crest has two 18-hole courses that were both designed by professionals.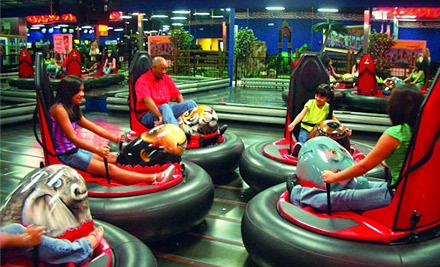 One of the best spots for family fun in San Antonio is Incredible Pizza.  They describe themselves as the one-stop-spot for all things fun, and let me tell you they're not too far off.  As you might be able to tell from the name they have an all you can eat pizza buffet, but the fun doesn't stop there.  After dinner you can take the family around the go-kart track, ride a few bumper cars, hit up the laser tag arena, or even do some mini bowling that's perfect for the small hands of kids.